One of St. Vincent and the Grenadines' leading butchers says that there is a shortage of cattle in the country amidst exports to Grenada.
Richard Gibson, who has been in the meat business for 59 years, including decades in England, said St. Vincent is struggling to meet the local demand for beef after the spike in consumption last Christmas.
Gibson, who is owner of the award winning Midway Butchers at Lowmans Hill, told iWitness News that his agents, who buy cattle which they slaughter to supply him with beef are struggling to meet the demand.'
"Over the Christmas period, a lot of cattle were killed in the high peak period and at the same time a lot of animals went out to Grenada," said Gibson, who does not do his own slaughtering, but hires agents to do so.
With the export of some 183 head of cattle to Grenada in March, St. Vincent was expected to reach almost half of its export target for 2019, before the end of the first quarter of the year.
In the seven years since the programme began, SVG has become the largest exporter of livestock in the Organisation of Eastern Caribbean States.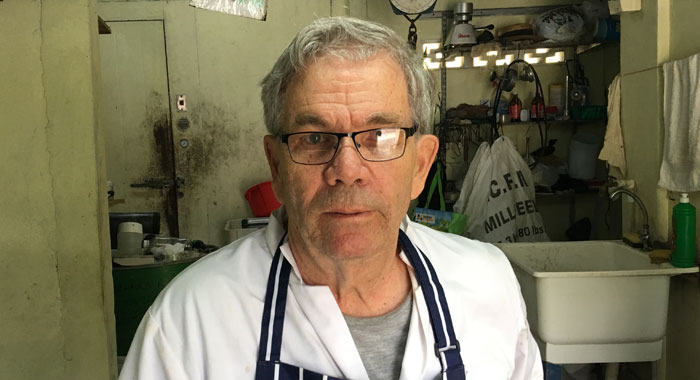 But Gibson told iWitness News that beef from the cattle sold to Grenada is being exported to Florida as organic meat and are, therefore, fetching a higher price.
"So why can't we do the same thing in St. Vincent here and sell a bit of organics? Why can't we have a slaughter house in St. Vincent kill the animal ourselves, supply work for our people here and if Grenada wants to come and by dead weight animal, let them come up and do that?" Gibson told iWitness News.
Andy Davis, of Arnos Vale, a butcher who supplies Gibson with meat, says that they are feeling the pressure.
"Right now we have a shortage of cattle, especially bulls and big cattle. We can't get because of this Grenadian buying out all of the cattle in St. Vincent now and taking them out and even the small ones now. They are taking out the small ones," he told iWitness News on Friday.
"I have been searching for the past two days now and can't get any cattle to buy. I had cattle that I had given out to mind [that] I had to take back and slaughter, just to keep the market going," said Davis, who has been a butcher for more than 30 years.
He said that some people are saying that the Grenadian buyer is paying more but some are saying that is not the case.
"I can't say. I have not been in contact with him personally to see how he is buying or anything like that. So I can't say if he is paying more or anything like that," Davis told iWitness News.
He said that to address the situation, the country should limit the number and size of cattle that are exported for the next two or three years to allow the herds to recover.
Davis said that some farmers who traditionally had large numbers of cattle in large pastures are getting rid of them, presumably with a view to entering the medical marijuana industry.
"And a lot of the older people who use to rear cattle, they are not rearing cattle now and the young people are not taking it up on their own to do that now."
He said that some young people do not want to do hard work and complain that cattle rearing is hard.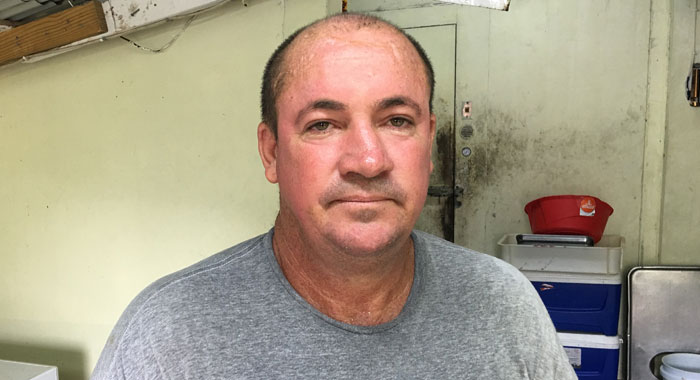 Davis told iWitness News that in the year before the shortage, he would get about 500 pounds of meat from each cattle that he slaughtered.
"And right now, things are down to around 200-300 pounds," he said, adding that this means that the animal is not mature.
However, farmers are demanding more for these immature bovine.
"A lot of people with those small animals that size, they want good money for it. So the price is really expensive, some of them," Davis said.
He said that on average, a cattle that would yield 500 pounds of meat will sell for around EC$2,500 as a live animal, if the butcher is to make a profit.
However, farmers are asking for between EC$1,500 and EC$1,800 for a younger cattle — which yields 200 pounds or less of meat.
Meanwhile, Gibson explained the knock-on effect of the shortage of cattle in St. Vincent.
He said that his business supplies a lot of restaurants and caterers, in addition to producing about 4,000 beef burgers a week and about 300 pounds of minced meat and a lot of steaks.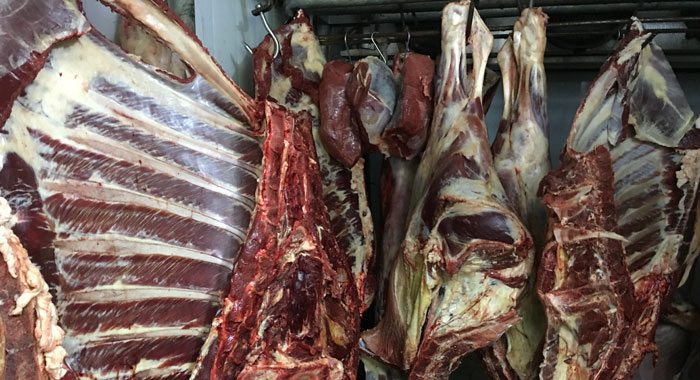 Gibson told iWitness News that his suppliers used to bring carcasses of between 500 and 550 pounds.
However, recently, they have been fluctuating between 270, 250, and 220 pounds.
"… because all the large animals have gone to Grenada and the young ones are being killed out," Gibson said.
"So when we are finished killing these young ones, there is no stock to build up so there will be a great loss to the people of St. Vincent," he said, adding that this will impact the businesses that he supplied.
He said he usually hangs his meat in his fridge for two to three weeks to allow it to mature so that the meat could be more tender and that marbling can occur.
"I can't do it now so I am refusing to sell steak to anybody who wants steak because it will be tough and all the young cattle that are coming through, there is no fat on them," said Gibson, who told iWitness News that he would rather not sell meat than lose his reputation of selling top quality meat that many high-end customers are looking for.
"So, even the meat to make the beef burgers, there is no fat on it so if you are not careful, the beef burgers will crumble when you are cooking them and they will fall to bits," he said.
Gibson said he has spoken to the agriculture minister, Saboto Caesar, about the situation several times.
"You must realise that the gestation period for cattle is nine months and to get to slaughter-house-quality is between 24 and 30 months old. So that gap has to be there to get good quality beef. So where is the next generation of beef coming from when you are now selling out all the young cattle?"