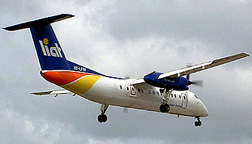 KINGSTOWN, St. Vincent: – Travellers to and from this country and 20 other Caribbean destinations should know on Monday when regional airline LIAT's "unacceptable" service will improve.
The Prime Ministers of Barbados, Antigua and Barbuda and St. Vincent and the Grenadines (SVG) are scheduled to meet here with the disgruntled LIAT pilots.
The meeting here, the second as many weeks, will seek to resolve pilots' ongoing industrial grievances with the airline.
Prime Ministers Baldwin Spencer of Antigua and Barbuda, Barbados' David Thompson and host Dr. Ralph Gonsalves of SVG along with LIAT Chairman Dr. Jean Holder and Chief Executive Officer Brian Challenger met here last week.
Dr. Gonsalves told the local media that the airline was facing a number of problems, including organisation issues.
Holder said he was concerned and uncertain about the airline operations and that LIAT had already lost $0.5 M as a result of the strike, which, he said, came without warning.
Dr. Gonsalves said that Monday's discussion will continue with the agenda from the meeting last week and appealed to the pilots, "let us be patriotic about this".
LIAT's service is vitally important to SVG where there is no international airport and the airline is the only one providing intra-regional travel.
Dr. Gonsalves' Unity Labour Party administration has invested heavily in the airline since coming to office in 2001, even in the face of strong opposition from the parliamentary opposition here.
"We have saved this airline for the Caribbean people, it is the only show in town, let us be patriotic about this thing and let's don't mash up this thing," he said in an appeal to the pilots.
"Let us talk together and we are not sending messengers to talk to you, the shareholder prime ministers are coming to talk with you."
"You cannot have a situation where every demand a particular section of the workers would make, that you necessarily give in to them," he said, adding that the situation with the pilots is "historically a problem".
An injunction was granted by the Industrial Court last month, preventing the pilots from staging any protest action against the airline until their wage negotiations are completed.
The pilots have until this Thursday, July 30, to challenge the injunction.
Gonsalves: I would sure LIAT
But even as Dr. Gonsalves appealed to the pilots, he said that the poor quality of LIAT's service was "unreasonable," and that consumer groups should put "organized, sustained pressure" on the airline to make the necessary changes.
"If I were a lawyer and you come to me, I will tell you that I will sue LIAT unless … the ticket itself says that they are not responsible for any interconnections," Dr. Gonsalves, who practiced law for more than 20 years, said at Monday's press briefing.
He was responding to a question regarding extensive delays and missed connections because of the ongoing industrial disputes.
He made the point those passengers who demand a refund for flights that LIAT is unable to provide or that are delayed extensively, only get back a 75 percent of the cost of their flight in credit for future travel.
He said that his government could not "intervene" to give LIAT passengers a full refund.
"And LIAT would only do it if they are made to show that they have a legal obligation, and this is why I would go to a lawyer to deal with the matter," he said.
Last week, scores of LIAT passengers travelling to Trinidad from Guadeloupe, Antigua and St. Vincent, had their flight delayed here for hours, some overnight.
The passengers complained about the poor quality of LIAT's customer service and the lack of information on their flights.