KINGSTOWN, St. Vincent, April 8, IWN — Gospel Fest 2013 was launched at Victoria Park on Sunday with a concert that saw performances from local worship teams and dancers, and featured artiste, "Positive", a Trinidadian.
The festival, which will include zonal showcases, ahead of a national climax at the end of this month, is being held under the theme "Lift Jesus Higher."
And, in his remarks, Fidel Taylor, chair the SVG Gospel Committee, said, "If ever there is a time we need to lift Jesus higher, the time is now.
"… So I want to encourage and challenge the Christian community in St. Vincent and the Grenadines, for the month of April, to ensure that we make our presence felt in this country, more than ever before, stronger than ever before; that we lift the blood-stained banner of Jesus high, so that this nation can see and feel the effects of it."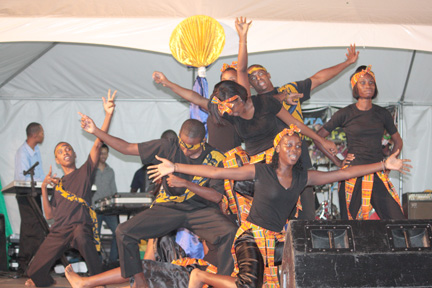 In his sermon, Rev. Stephen Ollivierre said man has turned away from God and the time for judgement has come.
He described the world as a "corporation" and said God has set believers free.
"… I am excited about Gospel Fest because what we are doing, we are lifting Jesus higher. He died and he rose again. But when we sing, we are lifting him higher, artistes; when we play the music, we are lifting Jesus higher; when we say the poems, we are lifting Jesus higher; when we dance, we are lifting Jesus higher; as we do what we have to do, we are lifting Jesus higher…"
The hundreds of persons at Victoria park lifted their hands and danced in worship as various worship teams and artiste from across the country performed on stage.
Among the outstanding acts at the launch was a dance by Diadem Dancer, a local group that has also performed regionally and internationally.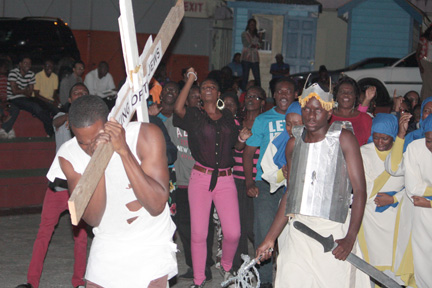 The piece, "Jerusalem", was a depiction of the crucifixion, death, and resurrection of Jesus Christ.
The performance began offstage, with a man carrying a cross being beaten by Roman soldiers, while a small group of persons walked behind, chanting "Crucify him! Crucify him!"
It continued onstage with a depiction of the crucifixion and resurrection of Christ.
Also of note was "The Christian versus The Unsaved", a song sang to the melody of extempo calypso, in which Errol Bowens and Keanu Charles sang comparatively about the lives of Christians and non-believers. (Watch video below)
But it was featured artiste, "Positive" that got the biggest response from the crowd with his reggae flavoured, inspirational songs.
The 26-year-old "Never Let Go" singer spoke of the death of his 16-year-old sister, who succumbed to meningitis, and his mother, who also died a few years later.
He said that when his mother died, she left a bank account containing $900.
"I said, 'My God, what is going to happen to me?' But today, I stand before you, certified with a bachelor's degree in computer and information systems," he said to cheers.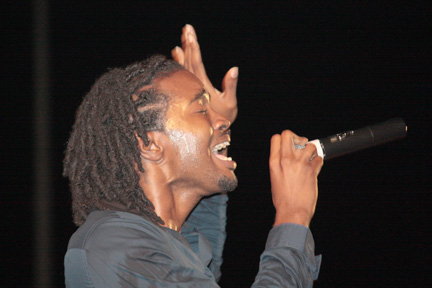 "And every time I remember the story, I remember the scripture that says, 'No good thing will he withhold from those who walk uprightly.'
"So, I urge you continue to walk uprightly in Jesus Christ for he is such and awesome God," said Positive, whose real name is Joel Murray.
Meanwhile, master of ceremonies, Michael Peters, announced that Jason "JP" Providence and Mt. Zion productions will award a recording contract — including video — to a person or group or group that is outstanding during Gospel Fest.
Elvis Charles, Parliamentary secretary in the Ministry of Culture, declared the festival officially launched.