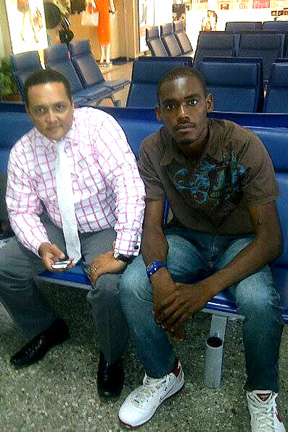 The lawyer of the man who police last week said was "wanted" and should be considered "armed and dangerous", is questioning why he has not been charged 30 hours after he turned himself in.
Police on Friday said former national footballer Dwaine Sandy was wanted in connection with the robbery of some EC$100,000 (EC$1=US0.37) from a postal worker and the shooting of police officer Jolani Jack, who came to assist her in Kingstown on Thursday.
Jack is in hospital but his exact condition is unknown, although reports say he has had a kidney removed.
Sandy, accompanied by his lawyer, Grant Connell, arrived in St. Vincent from Grenada on board a LIAT flight just before 11 a.m. on Monday and was met by police on the tarmac.
Sandy was whisked away to Kingstown in an unmarred police vehicle shortly after.
But Sandy was yet to be charged 30 hours later and Connell wrote to Commissioner of Police, Keith Miller, expressing concern about the development.
"They haven't charged him yet. So I am at a loss. You say a man is wanted, armed and dangerous for what? He comes to you and in 30 hours you can't tell him anything and you can't charge him for that which [you say he was wanted]," Connell told I-Witness News Tuesday evening.
"In other words, when you say somebody is wanted, that is really putting a message out there — dead or alive, you know," Connell told I-Witness News.
"You know what happened to the last man who was wanted by the police and was caught down Leeward?" the lawyer said.
He was apparently referring to escaped prisoner Godwin Moses who police gunned downed in Happy Hill, Central Leeward, in December 2011 three weeks after he escaped, and during which time he was suspected of killing dental technician Ewart "Ells" King.
"I have changed my approach to this whole thing. My client is adamant that he is innocent, I have written o the Commissioner of Police expressing my concerns with his delay in charging my client and his irresponsible act of posting a wanted picture of my client and saying he is armed and dangerous.
"And I have made a simple suggestion to the Commissioner to resolve the issue," Connell further told I-Witness News.
In the letter to the police chief, Connell said, "Your failure to charge my client 30 hours after he willingly and peacefully placed himself in the custody of the police, is a manifestation that your approach to this matter is unjustified and without merit.
"The release by your office that my client was 'wanted' and deemed 'armed and dangerous' was a malicious and irresponsible act on your part and very unbecoming of the office you hold.
"This act is clearly an intentional assassination of my client's character," the lawyer further wrote.
Connell suggested that during the 48 hours during which the police are allowed to keep Sandy without charge, the Commissioner facilitates a visit by Sandy to the hospital where the injured cop is warded.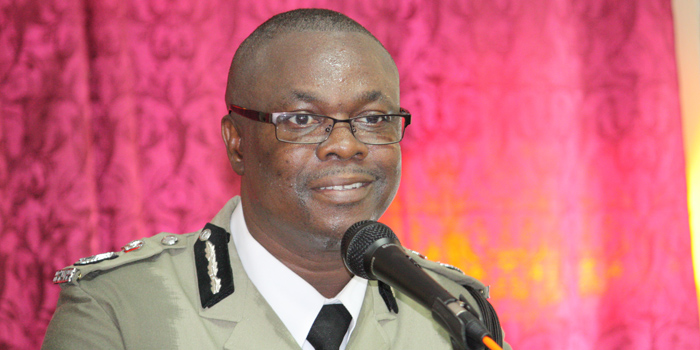 "… the officer can clearly state whether or not my client was the individual who shot him. If he makes a positive identification, you charge. I undertake to advise him accordingly. If he does not identify him as the assailant, you release him. I reiterate that my client is adamant that he is innocent and is willing to participate in the aforementioned process," Connell further wrote.
"I trust my humble suggestion would assist your thought process in bringing the perpetrator of this dastardly act to justice and reignite the confidence of our nation in the legal machinery in which both you and I play crucial roles," the lawyer further said.
Connell told I-Witness News that "the society is very concerned because of the nature of the offence and when it took place and where it took place, it shows the comfort of the criminals in St. Vincent now, and I really want to put the allegations levelled against my client to rest."
The robbery and shooting took place in the vicinity of the Postal Corporation in Kingstown.
The lawyer further told I-Witness News of the Commissioner's actions:
"You can't just abuse an office like that. You must think before you engage in this kind of behaviour pattern. You don just put up a wanted poster for a man …
"You have to understand that this man could have come back on LIAT in the luggage compartment in a box. And this could have been an innocent man. So what really transpired is frightening.
"It casts a whole different light on the Office of the Commissioners of Police. I have expressed my views of he who holds that office and the competence already. But nobody seems to want to heed the warning. So, sometimes, if you can't heed the warning, you feel it where it hurts. So we will see how it unfolds,' Connell further told I-Witness News.
The lawyer copied the letter Director of Public Prosecution, Colin Williams, Attorney General, Judith Jones Morgan, Deputy Commissioner of Police, Michael Charles, Adolphus Delpesche of the Chief Prosecution Service, Dr. Linton Lewis, president of the Bar Association, and the media.