Prime Minister Dr. Ralph Gonsalves said Wednesday that the arrival of regional airline LIAT's new ATR 72-600 aircraft in this country has "almost a spiritual flavour".
LIAT on Wednesday officially unveiled the 70-seater aircraft in St. Vincent with a ceremony and a 20-minute return demonstration flight over the southern Grenadine island of Canouan from E.T. Joshua Airport.
"This is a very emotional moment for me because it is a long, long journey," Gonsalves said during a ceremony at E.T. Joshua Airport shortly after the aircraft made its maiden flight to this country, with LIAT officials on board.
Gonsalves, who is chair of LIAT shareholder governments, told the ceremony that in April 2001 — one month after his government came to office — he had his first substantive discussion on air transportation, specifically LIAT.
He noted that he indicated then that the public policy of his Unity Labour Party government was to support LIAT and to see that it survives and thrives.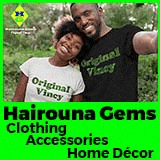 LIAT has come to the point where it is re-fleeting, with 12 new aircrafts expected by next year, notwithstanding "the vicissitudes of life, … the changing fortunes of the aircraft industry, … international crises and regional meltdowns in the financial and insurance sector, … and against the view of a large number of Thomases who always wanted to see the wound in which to put their hand," Gonsalves said.
He said that in 2001 he made it plain that his government was investing in an insolvent airline, but also said that had LIAT not existed then, it ought to have been invented.
"So, I was investing as much in the idea and the people as much as the company," Gonsalves said, adding that notwithstanding the achievements, "we are not there as yet".
He said that today's world is one in which there is instant coffee and fast food, but added that "difficult decisions always have to be made when you are in government.
"And against the run of play, you have to stand for what you think is a correct public policy and pursue it. And I accept that if I am wrong and I fall on my face, the people would then vote me out, which would be their right…
"This event today has almost a spiritual flavour. There is an amazing grace, which has brought us safe with LIAT thus far. And I am certain, with our plan, that amazing grace will take us home."
Gonsalves noted that the re-fleeting and retooling of staff will cost LIAT US$100 million, but spoke of the benefits of the new aircrafts.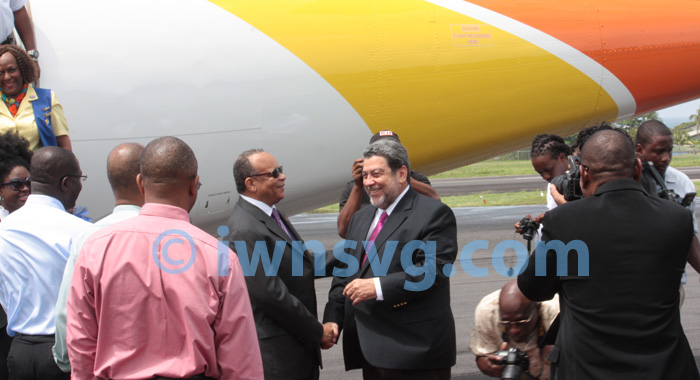 "These new planes will help us over the next two years to keep our maintenance cost very low and to facilitate us in having LIAT turn around from an operational deficit to an operational gain."
He said the re-fleeting is very focused and takes into account LIAT's plans to expand its route in the Caribbean even as it eyes new markets in North, Central and South America.
But he further said that the re-fleeting of LIAT is important to this country, which is slated to open its first international airport in about a year.
The ceremony was attended by the regional beauties who will contest the Miss Carival Pageant, as part of Vincy Mas on Friday.
"I want Miss Dominica to tell her prime minister yet again that we are grateful that he has come aboard…," Gonsalves said.
Dominica earlier this year joined St. Vincent and the Grenadines, Antigua and Barbuda, and Barbados as shareholder governments in the airline.
St. Lucia has expressed and interest in invested but is yet to do so.
"We know that the prime minister of St. Lucia [Dr. Kenny Anthony] is tiptoeing in the right direction. And I am asking the outgoing Miss Carival, who is a St. Lucian, and the current Miss St. Lucia when they go back, I want you to give my brother Kenny Anthony my greetings and say that you saw the ATR 72, it's a beautiful aircraft and it is time for St. Lucia to get on board as a shareholder.
"I am putting pressure on my brother Kenny to get on board publicly," Gonsalves further said
"And I suspect we have to wait the outcome of certain democratic imperatives in St. Kitts before I can make a similar demand on my brother Denzil Douglas in St. Kitts," Gonsalves said of that nation's prime minister, whose government is facing a vote of no confidence as political tension escalate there.
"This is for you," Gonsalves told the gathering of the new aircraft.
"You see me, though I am not yet at the front row in the gallery of life observing the passing parade of my near contemporaries, I am certainly not too far behind the front row.
"I hope that the good lord keeps me away from the front row for a little while longer. But basically, this is for you the young people of the Caribbean. This is for your life. This is for your production," the 66-year-old leader said.
Speaking after the 20-minute demonstration flight, Gonsalves told I-Witness News that the experience was "beautiful, emotional, touching, practical".
"I see part of the fruits of the vision of the governments and peoples of the region," he said.
Asked if when he committed his government to LIAT amidst much opposition in 2001 if he thought that the airline would have been able to successfully re-fleet, Gonsalves said:
"I know we were get the re-fleeting. I didn't know we were going to get ATR 72s and I didn't know at what point we were going to get them."
But he said he was "never" discouraged.
Asked what kept him going, Gonsalves said:
"The rightness of the cause; faith in people, and great causes have never been won by doubtful men or women."