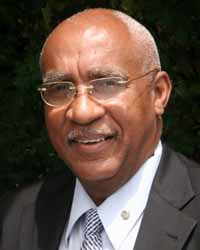 The New Democratic Party's (NDP) candidate for West St. George in the next generally elections says he will win in each of the 18 polling station there.
Dr. Julian "Jules" Ferdinand, in his first major speech since emerging as the candidate a year ago, noted that in 2010, the Unity Labour Party retained the seat, having won 54.7 per cent of the votes (2,495), compared to the NDP's 45.3 per cent (2,066).
"They beat us in West St. George by 429 votes in 2010. But never again! Never again! We taking all the 18 polling stations; every one!" said Ferdinand, who has replaced Sen. Vynnette Frederick as the candidate in West St. George.
He further told party supporters at a rally in the constituency on Saturday that it is important that they register to vote.
"I have good reason to believe, I don't have proof yet — but I have good reason to believe that they are already moving some people from other constituency and bringing them into West St. George. But we say come! Come! The more the merrier! Licks like peas in West St. George!" the former manager of the East Caribbean Group of Companies said.
Ferdinand said that he will focus on housing, health, education and employment.
"And I share with you information that you can hold me accountable. I open myself to you and I tell you how I think and how I feel so that if at anytime I stray away from this, you can come and say, 'Jules, that is not who you say you were," he said.
"What pushes me through life, my mission statement, is this: to have my life contribute to other for good. So what I say must build people up. What I write must encourage people. The programmes that I put in place must be for good and not for evil," he said.