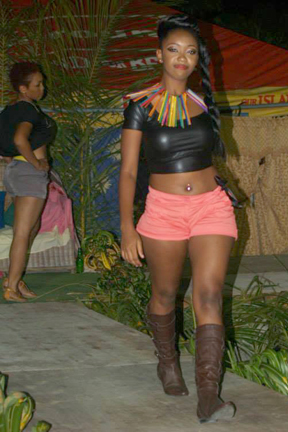 The Owia Sports and Cultural Organisation (OSCO) has deemed the first ever fashion extravaganza in North Windward, held on Saturday evening, a major success.
The community-based group says that the event, held at the Owia Hard Court, surpassed members' expectations, attracting a large audience who enjoyed all eight sections showcased by the 15 models.
The show began with the children's section, "Tinker Bell", a production of OSCO member, Sheena Child. This was followed by the All Black section, which was also well received by the audience. The other sections include Casual/Party Wear; Beachwear; Pattern; Back In Time and the showstopper, the Futuristic Wear section, designed by Shaffiquer Nanton and Fay Ann Pollard.
The make-up artiste for the show was reigning Miss SVG, Shara George.
The evening also saw performances from 2013 calypso monarch, Shernel "Skarpyon" Williams, Delroy "Fireman Hooper, Randy "The Original Breeder", the Xpressions Dancers of Owia and Top Secret Dancers of Sandy Bay.
The OSCO Fashion Extravaganza was held under the theme "Lights, Camera and Imagination."
The group is now preparing to take part in the Christmas lighting up activities as a non-competitor.
OSCO will also host in December, for the second year, its kids Christmas party and a river lime.