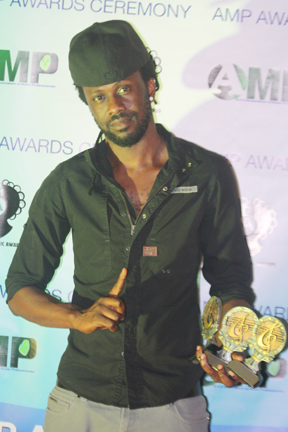 Vincentian soca heavyweight Skinny Fabulous dominated the first St. Vincent and the Grenadines Association of Music Professionals (SVG AMP) Awards  — "The Vincentian Grammy's and Oscars" — in Kingstown on Friday.
The five-time National Soca Monarch, whose hit song, "The General", won him the National Soca Monarch and Road March titles last year, won three awards, the most bagged by any artiste Friday night.
National Calypso Monarch, Skarpyon, won two awards, including for "Until", the calypso that did not earn him a place in the 2013 finals initially, although he went on to win the crown with that as one of his two winning compositions.
Ishan, who died early last year, was given a posthumous award for the Reggae Single of the Year.
Skinny Fabulous won the award for Best Soca Single of the Year, for which "Show Me Yo Wuk Up" by Shaney Hypez, and Kieth Currency's "Pat It" were also nominated.
He also took the award for Entertainer of the Year, ahead of foreign-based Vincentian artistes, Marlon Roudette and Kevin Lyttle.
Skinny's "The General" also won the judges' nod for the Record (Song) of the Year, outdoing "Ah Ketch It", by Fya Empress, and  "Show Me Yo Wuk Up".
Meanwhile, in addition to winning the award for the Best Calypso Single of the Year, Skarpyon won the award in the Ragga Soca category.
In gaining that title, he outdid Fya Empress' "Ah Ketch It Artiste", which won the Ragga Soca Monarch title last year, even as Skarpyon's now award-winning "Hammer N Conch" was second in the competition, which, like the Calypso, and Soca Monarch shows, formed part of Vincy Mas 2013. The other nominee in that category was Rosario's "Ah Free".
The other results from the show are as follows:
Reggae Single of the Year: Refugee Camp Artiste by Ishan
Other nominees: They Call It Love by Melissa and "Loving You" by Ms Paige
Hip Hop/R&B Single of the Year: "Beautiful Nightmare" by Prez
Other nominees: "Corner Block" by New Starz and "Champagne Pain" by Wess Pahm
Dancehall Single of the Year: "Left Overs" by First Lady
Other nominees: "Best Friend" by Dymez and "Stand Strong" by Wizzy song title
Christmas Single of the Year: "Girlyn" by Luta
Other nominees: "Gift For Santa" by Rolly Bowman and "Promises" by CP Hall
Universal Song of the Year:  "I'm Not A Robot" by Sarah Mark
Other nominees: "Life's Too Short" by Amanda Gooding and New Age by Marlon Roudette
Gospel Artiste of the Year: Kyoka Cruickshank-Jack
Other nominees: Fenton Harry and Bridget Blucher
Best New Artiste (Female): Sarah Mark
Other nominees:  Melissa and Carice Glasgow
Best New Artiste (Male): Keith Currency
Other nominees:  Rosario and Artiste Prez
Best Live Band: Kinetiks
Other nominees:  Ulitimate and Vykins
Best Music Video: "Concrete Jungle" (Director: Akley Olton)
Other nominees:  "I'm Not A Robot" (Director: Akley Olton) and "Beautiful Nightmare" (Director: Young Fross)
DJ of the Year: Captain John
Other nominees: Jude and Scratch
Radio Station of the Year: NBC Radio
Other nominees: Nice Radio and Star Radio
Producer of the Year: Producer Alex Barnwell
Other nominees: Dougal and Mark Cyrus
Musician of the Year: Rodney Small
Other nominees: Amanda Gooding and Zan
Riddim Track of the Year: Oil Stain Riddim
Other nominees: Authority Riddim and Pally Wack Riddim
ECCO Songwriter of the Year: Bomani
Other nominees: Candy Gloster and Hance John