Vincentians on Sunday proved that the saying "a prophet is not without honour, but in his own country" may not always be the case.
They turned out in large numbers to worship with their compatriot, Evangelist Bridget Blucher, at the climax of SVG Gospel Fest 2015.
Followers of the festival say that Sunday's crowd at the Victoria Park was the largest for some years and was in keeping with the attendance when the overseas-based Bucher performs at home.
Blucher, whose single "Greatly Blessed" was adjudged the St. Vincent and the Grenadines Association of Music Professionals Gospel Single of the Year, received her trophy at the Gospel Fest showcase.
https://www.youtube.com/watch?v=zZf_gfJm1Cs
She was the featured artiste at the event, which also saw a performance by former calypsonian Felix "Dalpin" Findlay of "Behind A Bumper" fame.
Findlay's was a joint performance with his wife, Monica Findlay, a former calypsonian, known then as Valley Dove.
Sunday's event showcased some of the new, emerging and outstanding talents that came out of the zonal showcases across the country over the past weeks.
The guest artiste was Neisha Woods of Barbados.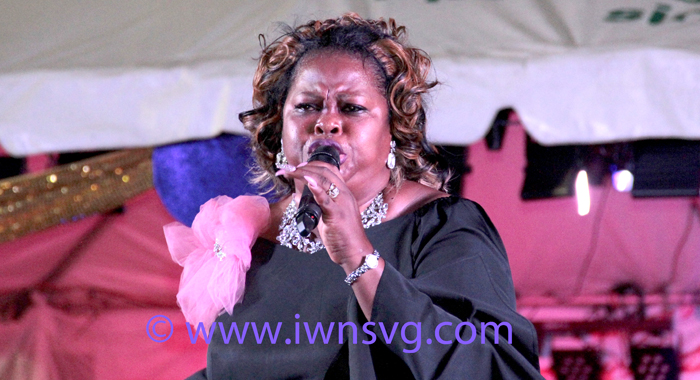 https://www.youtube.com/watch?v=V4Zg3c2BLA4
Blucher was welcomed on stage by the singing of one of her songs by a section of the crowd at the front of the stage.
It would be a further few minutes more, however, before she got into her act, as the band needed additional time to get the sound right.
But when she sang the first few two lines of "I Stand Amazed in the Presence", it became immediately clear why she moves Pentecostal and other Christian worshipers in the way that she does.
Blucher's rich voice, singing centuries- and decades-old hymns, moves Christian, including the youth, in a way that sends them screaming praises and lifting up their hand to God in worship.
SVG Gospel Fest 2015 was held under the team "Restoring The Land".