Sion Hill Tallawahs and Nice Radio Clinchers moved into the quarterfinals of the Police Co-operative Credit Union Clinchers T20 competition on the Sunday, while Fully Loaded Ballerz and Computec Cane End advanced to the Big Sixteen with victories on Saturday.
Sion Hill Tallawahs continued their impressive season with a 107-run defeat of Smart Strikers in the early match.
Winning the toss and electing to bat, Sion Hill Tallawahs found themselves in some strive at 45/5 after 10 overs.
Things were made even harder as captain Shamic Roberts had laboured to 21 in all of 10 overs. It got a little more problematic when they slumped to 63 for 8 in the 14th over.
But the confidence showed by the descendants of paramount Chief Joseph Chatoyer then materialised, with Kerwin Williams (37) and Colin Williams (30) featuring in a 75-run unbroken 9th wicket partnership with some sensible batting to see their team to 138/8 in their 20 overs.
Colin struck 5 sixes in his 37, while Kerwin struck 2 sixes and 2 fours in his innings.
Glenroy Gaymes, who had picked up some crucial wickets, suffered towards the end and ended with 3/52 from his 4 overs. Lorenzo De Grads 2/13 and Horvan Samuel 2/32 also got among the wickets.
Looking seriously deflated, Smart Strikers were quickly hammered into the ground at 4 wickets for 5 runs and never recovered. Alex Roberts, whose accuracy and deceptive pace proved the undoing of the Smart Strikers batters, finished with 3/7 from his four overs and Shamic Roberts 3/22 with Kerwin Williams taking 2/0 from the five balls he sent down to help dismiss their opponents for 31 in 9.5 overs.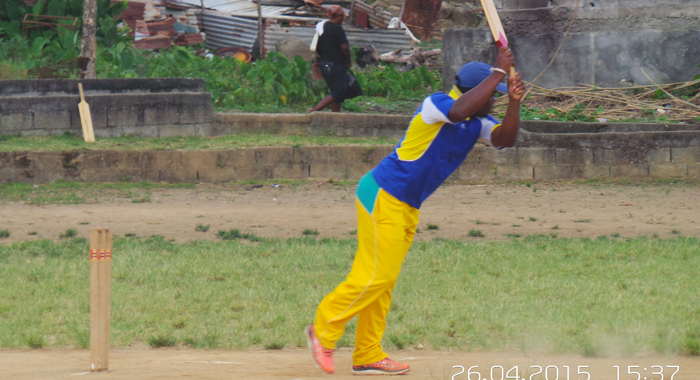 The midday match between Smashers and defending champions, CGM Gallagher Novice, was rescheduled owing to a non-cricketing matter.
In the other match, Nice Radio Clinchers beat Calder United by 84 runs.
Nice Radio Clinchers decided to bat first and found themselves in early problems against a team who were not only out to prove a point by their mouthings but looked on course to do so.
In the uncomfortable position of having lost half their side with just 60 on the board in the 8th over, Nice Radio Clinchers were indebted to Donwell Hector's well compiled half century and an attacking innings from Rajiv Roberts to their eventual total of 177/9 in their 20 overs.
Hector, who opened the innings, withstood all that was thrown at him to carve out a well-put-together 51. He struck 8 fours, many of them classic cricket shots, and 1 six over extra cover. He was sent out in controversial circumstances, when it was deemed he had been bowled on appeal by keeper Kenny Stapleton.
Hector's departure saw Roberts making it "ruff" for the bowlers as in one of his better innings he produced hit after hit despite being bothered by a back injury. He struck 4 sixes and 3 fours.
Kenron Fraser took 3/19 from his 4 overs and Reinaldo Coombs 2/43 after getting a late pasting.
Calder United ran into early trouble and gave up the fight and despite Othneil Bullock's late flurry of 24 with 3 sixes, were dismissed for 93 in 17.1 overs. Peter Richards 3/11 and Orlando Lavia 3/13, both from 4 overs, took the early initiative with Hector going for some in taking 2/41.
On Saturday, Fully Loaded Ballerz won from Owia Young Strikers, who failed to show, by default.
In the other match, Computec Cane End beat Bank of SVG Allstars by 40 runs.
Reports say that Computec Cane End only had six players when the match was to begin but instead of claiming the match, which was their right to do, Bank Of SVG Allstars agreed to play the match. The reports said that Comptec Cane End, who had been sent into bat, eventually had their full team with players finally arriving. They reached 97/6 in their 20 overs then dismissed bank of SVG Allstars for 57 in 16.5 overs, with Noel Carr taking 3/8 and Orlando O'Brien 3/10.
Donwell Hector of Nice Radio Clinchers was named Player of the Week for his innings of 51 against Calder United.