By E. Glenford Prescott
St. Vincent and the Grenadines head soccer coach, Corneilius Huggins is confident that his team, "Vincy Heat", will be victorious in their the first leg of the CONCACAF Round 2 of FIFA World Cup, Russia 2018 qualifying against Guyana's "Golden Jaguars" this afternoon at the Arnos Vale Play Field.
"We are confident and ready to go. In fact, the guys wish the match was today and did not have to wait for two more days," the former ace national defender said at a media conference on Monday.
Huggins said that the team, which was guilty of missing a number of chances in the Windward Islands senior men's tournament in St. Lucia, had done a number of shooting drills to try and overcome this problem.
"We missed a lot of chances in that tournament and since that time and the U23 matches against Dominica, we have put in a lot of practice, especially doing one-one since it was in that situation that we missed a lot of our opportunities.
"As a matter of fact, the players have gone and practice on their own to remedy this," Huggins said.
He said SVG, which won the Windwards tournament as well as beat Dominica over two legs in the Olympic Qualifiers, will be hoping to leave the Arnos Vale Playing Field with a clear advantage for the return leg on Sunday.
The coach said that the training had gone well and his only setback was that the overseas-based players were not home earlier to have "more gelling" of the squad. He, however, feels that this will not take away from the cohesiveness of the unit.
Three overseas-based Vincentians have returned home in an attempt to make the team and when the cut was made, striker Gavin James was able to break into the squad.
James, a 26-year-old semi-professional, prior to getting the news that he was in the squad, told the media that he was committed to helping "Vincy Heat" do well in the play-offs and that his acceptance by the other players was "very refreshing".
The player currently plays for Flackwell Heath, which he joined two seasons ago. Last season, he scored 25 goals for the club and 45 this season in helping them to win the league, reached the last 16 of the FA Vase and won the Golden Booth award.
SVG will also have at their disposal FC Sounders 2's Oalex Anderson and the Finland-based Corneilus Stewart to add fire power to that of Myron Samuel, Emerald "Jewel" George, James and Tevin Slater in the goal-getting department.
Huggins said that outside of "a few niggles" the team was fully fit and ready for the task even though they still see the "Golden Jaguars" as an unknown quantity.
"Our Technical Director Mr. Keith Ollivierre looked at a match between them (Guyana) and Barbados recently but we understand that they have a number of overseas-based players whom we know little of. So we just have to go and do what we have to do, and that is play hard and positive and looking for a win," he said.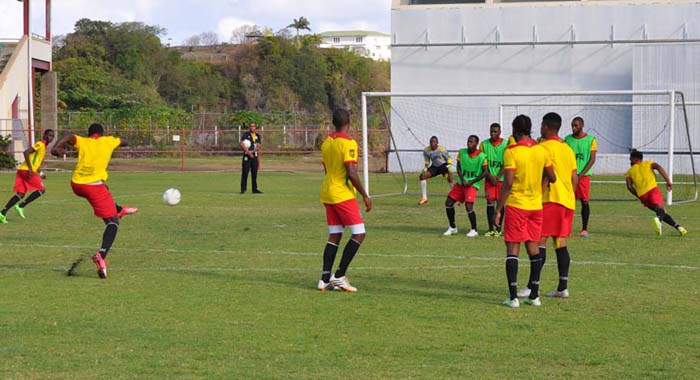 Guyana did their mandatory training at the venue on Tuesday and after the session, coach Jamaal Shabazz was reported by the Kaeiteur news as saying that "the focus is now for the players to relax and get their heads, spirit and vibes together for the task at hand and to give one hundred per cent.
"These are the moments that we've been praying for, every footballer's dream is to advance in world cup qualifiers and every country's dream is to do that. We've done all we can do both on and off the field, we've put in the work and now it's just to go on the pitch and execute," he told the paper.
Reports say the team was dealt what is being described a heavy blow after a request for passports for four overseas based players, namely Neil Danns, Matthew Briggs, Samuel Cox and Marcel Barrington was turned down by the authorities.
Reports say the Guyana Football Federation (GFF), on request from the technical staff, had to act quickly to call up the UK-based Pernel Schultz, Kevin Beaton and Chris Camacho who have all been training with the Golden Jaguars.
Shabazz said that the team has depth and that they were two players competing for each position in the squad, which was a good thing.
The match kicks off at 3:30 p.m. and the winner from the two-legged tie will advance to the next round of the CONCACAF play-off.
SVG squad: Dorren Hamlet (captain), Roy Richards, Myron Samuel, Dennis Prescott, Emerald George, Kevin Francis, Winslow Mc Dowall, Reginald Richardson, Vasbert Ledger, Glenford Ashton, Jolanshoy Mc Dowall, Chavel Cunningham, Cornelius Stewart, Keith James, Kyle Edwards, Gavin James, Oalex Anderson, Tevin Slater, Lemus Christopher, Dwayne Dennie
Guyana's starting X1: Akel Clarke (goalkeeper); Defenders, Jamaal Smith, Colin Nelson, Dwain Jacobs and Walter Moore, Midfleiders Captain Christopher Nurse, Brandon Beresford, Vurlon Mills and Daniel Wilson with Emery Welshman and Sheldon Holder the forwards.
The reserves are Adrian Butters, Trayon Bobb, Ricky Shakes, Derrick Carter, Pernel Schultz, Eon Alleyne, Kevin Beaton and Chris Camacho.