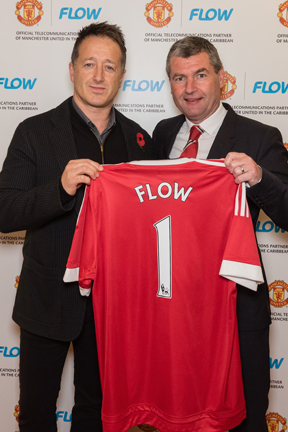 Sports fans have yet another reason to celebrate as Cable & Wireless Communications (C&W) announces a partnership with one of the world's leading football clubs, Manchester United.
The exclusive, multi-year agreement awards C&W and its retail brand Flow, sponsorship and media rights for the Caribbean. Both organisations will work together to help further grow football across the region, through competitions and coaching programmes with Manchester United Soccer Schools. The new partnership will also provide Caribbean fans with unique experiences including the chance to win tickets to Manchester United games, signed merchandise, as well as interaction with Manchester United Legends such as club ambassadors Bryan Robson, Andy Cole and Dwight Yorke.
"This is another big win for Flow customers," John Reid, President of C&W's Consumer Group said. "I am delighted to sign this landmark partnership agreement with Manchester United, the world's most popular football club. Our aim is to become the home of sports in the Caribbean, and there is no better way to demonstrate our ambition than by partnering with one of the biggest sports brands in the world. This agreement with Manchester United is the latest in a series of strategic partnerships that already includes the Premier League and the 2016 Rio Olympic Games, and further demonstrates our commitment to delivering the region's best sports content to Flow customers," Reid added.
Even more exciting for Caribbean viewers is the announcement that Flow will become the exclusive distributor of the dedicated MUTV channel. This means that from the 2016/17 Premier League season, fans will be able to experience exclusive Manchester United programing as well as behind the scenes access to the club.
As the region's leading quad-play operator, Flow will also enable access to Manchester United content "on the go" via mobile, tablets and desktop devices, as well as through the Flow ToGo app.
With a global community of 659 million followers, and a 137-year heritage, Manchester United is a household name; it is one of the most successful clubs in not only the Premier League, but in the world. Manchester United is also a leader in the development of content and applications for fans, making an excellent fit with C&W as the region's leading multi-platform operator.