There is still no resolution to the currency exchange issue that has seen Vincentian traders having grave difficulty in buying Eastern Caribbean dollars after selling agricultural goods in Barbados and Trinidad.
"It is a very important issue which goes to the heart of the trading regime under the Caribbean Single Market," Prime Minister Ralph Gonsalves told the last meeting of Parliament.
Gonsalves, who is also Minister of Finance, said his government has raised the matter on several occasions and he has written to the government of Trinidad and Tobago more than once about it.
He said he also raised it at February's meeting of the Caribbean Community (CARICOM) and had also raised it at the Monetary Council of the Eastern Caribbean Central Bank.
The prime minister said the issue is that Vincentian itinerant traders — referred to locally as "traffickers" — sell their goods in Trinidad and Barbados and are paid in Trinidad and Tobago dollars or Barbados dollars.
But when they are leaving those countries, they are supposed to get the Eastern Caribbean dollar equivalent of what they sold and have to make the various applications in the central bank in Bridgetown or Port of Spain.
"And over the last two or so years, these central banks have come up with the mantra that they have a shortage of foreign exchange and they have to wait.
"The problem with this is that apart from the traffickers themselves, these are persons who would have purchased commodities in whole or in part from farmers on credit and they expect when they come back to pay the farmers," Gonsalves told lawmakers.
He said if the traders can't get their foreign exchange, they can't pay farmers.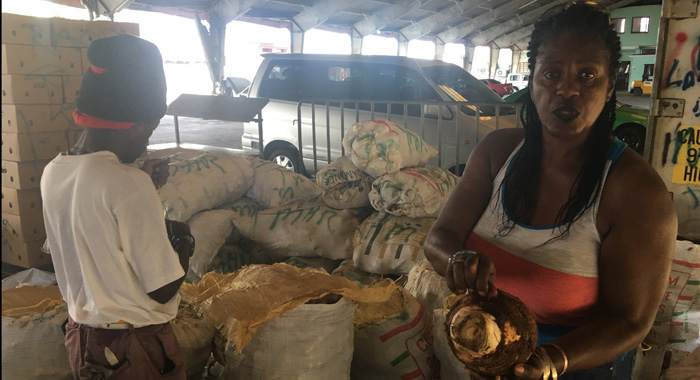 Gonsalves said some traders try to take the Trinidad and Tobago dollars and buy goods in Trinidad to sell in St. Vincent.
"But that takes a while for the sale for those commodities and the farmers are left holding the bag for a long period of time and some farmers simply don't give the credit. The Farmers Support Company, in a very limited way, try to help out now and again, but that's not the purpose of the Farmers Support Company," he said of the state-owned company that was set up to give short-term low-interest loans to farmers.
"So there has to be a proper solution," the prime minister said, adding that he has indicated to Bridgetown and Port of Spain that when Kingstown buys their fuel or manufactured commodities, those capitals are paid right away and are not given the excuse that Kingstown doesn't have any foreign currency.
"The central banks have tried to work together and we have been trying to get that done but there have been no proper solutions."
In the interim, the government with the Ministry of Finance has met with one bank and has an agreement with it, where the traffickers will be allowed to establish bank accounts in Trinidad using Trinidad and Tobago dollars and then be able to make withdrawals from the corresponding bank in Eastern Caribbean dollars, Gonsalves said.
"However, the bank is limiting the traders to EC$2,000 withdrawal a day. It is better than what had existed hitherto," the prime minister said, adding that, Ministry of Finance officials had scheduled a meeting with the traffickers.
He, however, said that through the CARICOM Single Market and within the central banks there has to be a clearinghouse system.
"And we have suggested to our central bank that they put aside a certain amount of money with the bank in Trinidad for the purposes of this particular trade and then our central bank can wait, … in other words, our central bank can take the delay for a while and would not be a sum of money which is out of proportion to what is the total overall assets of the central bank. And this is one possible solution," Gonsalves said.
The prime minister's comments came as he responded to a question from Member of Parliament for Central Kingstown and opposition lawmaker, St. Clair Leacock.
Leacock told Parliament that the recent tragedy and loss of the MV Persia — an interisland cargo boat that sank in March — is but a timely reminder of the financial risk and challenges faced by traffickers.
He said that the currency exchange issue was discussed at a recent event to which the Governor of the Eastern Caribbean Central Bank invited Member for East Kingstown, Arnhim Eustace, also an opposition lawmaker.
Leacock asked the prime minister to tell the Parliament "what assistance if any is being given by the Government to bring relief to our traffickers and farmers; and how soon can we expect an amelioration of their problems".