By E. Glenford Prescott
Over 300 junior footballers, many of them accompanied by their parents and, in some cases, grand parents, converged on the Campden Park Playing Field on Saturday as part of the opening ceremony of the SVG Football Federation's Under 15 and inaugural Under 11 tournament.
The opening saw teams as far as Owia and North Leeward taking part in the impressive opening ceremony, which heard a short address from SVGFF President Venold Coombs who hailed the historic event as another thrust in the development of the sports.
Coombs, clearly enthused by the response and turnout, told iWitness News in a post-opening-ceremony interview that his desire to have football played in every community across the island by girls and of all ages, and regularly.
"When you look at the children and older persons who are here today, this tells you that, regardless of how some people want to paint it, football is still the most popular sports here and people want their children to play the sport," Coombs said as he shared a joke or exchanged a greeting with an adult or young player.
Coombs said that under his presidency the ultimate aspiration of the executive is to have a feeder programme where young players are constantly coming through and creating a pool of players who will also be available to replace those ahead of them.
"Over the years, I have been instrumental in introducing age group football and you will remember that as far back as 1989 it was under my presidency that an Under 15 tournament was introduced here with people like "Chang" (Rodney) Jack  "Fame" (Curtis) Joseph and "Ken-I" (Kendall Velox) to name a few, and many of these players went on to become stars at the national level".
He said that the SVGFF must no longer have players who are 35 and 36 going out to represent St. Vincent in the senior team and that only happened because there was no plan in place to build the sport.
The football chief said that what eventually happened was that aging players were still regulars in the senior team and were asked to play 90 minutes and that was unfair to those players and to the sport.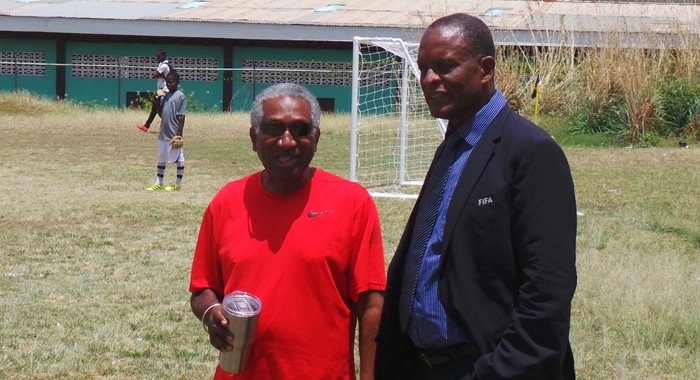 Coombs, who have been under constant attack from some quarters, said that persons have been critical of the federation's approach to having football being played almost all year round, but suggested that by having the Community Inter-League and National Club Championships has won back the fans to the sport.
"We may not have sell-out crowds at the Victoria Park when we play there, but look at the response of the spectators to the matches, which are played away from the park. It tells you that people were starved for football, where they can go and support their home team. I know we are on the right track," said Coombs, who is into his second four-year term as president.
He said that the SVGFF is being frustrated in its attempts to have its programmes conducted uninterrupted because it has to depend on the authorities to get the use of playing fields and on many occasions, matches have to be postponed for one reason or the other. He said that it is because of this that the SVGFF continues on its quest to source a facility, which would help them to expedite their programmes.
All playing fields used by the SVGFF to host its competitions and other programmes are under the control of the National Sports Council or the National Lotteries Authority.
Coombs said that he has been lobbying the government to hand over the Campden Park Playing Field to the SVGFF so that they can lay down artificial grass surface on the surface.
"Campden Park is our best prospect at this time as a home for football and I see no reason, why the transfer cannot be done. The Community is a football-loving community and that would be a plus if we get here. We can light the field and other fields as well because the resources are available to do so".
Coombs said that should the SVGFF not be successful in getting the Campden Park Playing Field to convert into a "home for football", he will move to purchase a parcel land, which he has already identified — once the owners are willing to sell it.
On Saturday, the day's activities included a number of matches, some as part of the competition, while others were of an exhibition nature.
SVGFF Technical Director, Keith Ollivierre, believes that the Under 11 competition will help in fortifying the FF's grassroots programme by bringing more children into the sport.
Fifteen teams in three groups will contest the Under 11 tournament, while 17, also in three groups, do battle in the U15.
The 2017 National Club championships are being contested in Premier, First, Female, U19, U15 and U11 divisions.
The Under 11 matches are being played on half of the full size fields and will be played over two halves of 30 minutes each.
The competition will continue on Saturday.
Team and Groups
Under 11 Division
Zone A
¤  Pride & Joy
¤  Awesome FC
¤  Glenside Ball Blazers
¤  SV United
¤  Owia United
¤  Sparta FC
Zone B
¤  United Strikers
¤  System 3
¤  K&R Strikers
¤  Green Hill
¤  Jebelle
Zone C
¤  Volcanoes
¤  Layou FC
¤  Camdonia Chelsea
¤  North Leeward Predators
Under 15 Divison
 Zone A
¤  Pride & Joy
¤  K&R Strikers
¤  System 3
¤  SV United
¤  Owia United
¤ Sparta FC
Zone B
¤  Sharpes FC
¤  Largo Height
¤  Richnind Hill
¤  Green Hill
¤  Avenues United
¤  Volcanoes
Zone C
¤  Parkside Rollers
¤  Layou FC
¤  Camdonia Chelsea
¤  North Leeward Predators
¤  Jebelle FC