A Vincentian designer who was the only Caribbean exhibitor at this year's Africa Fashion Week London, says the experience was a "mind-blowing" one.
"It was a mind blowing experience to be in the presence of international designers from all over the African continent, coming together and presenting their brand\products on an international level. I felt honoured and proud as a designer representing my home country, St. Vincent and the Grenadines," Ingrid John of Natural Beats told iWitness News after the Aug. 11-12 event.
"This really shows me that we have a lot to offer — the way in which the people paid interest in the products. The networking was great, the response was amazing and the products were well received and I can proudly say that my hard work and sleepless nights have really paid off and I've tapped into a great market. My dream really was to tap into the UK market and it is definitely a dream come through," John said.
Africa Fashion Week London (AFWL), which was founded in 2011 by Ronke Ademiluyi, is Europe's largest fashion event promoting and nurturing African and African-inspired design talent.
With a collaborative catwalk, exhibition and business development program, AFWL has led the way in highlighting Africa's emerging designers and apparel industry and has been at the forefront of bringing awareness of Africa's burgeoning fashion industry to the international market.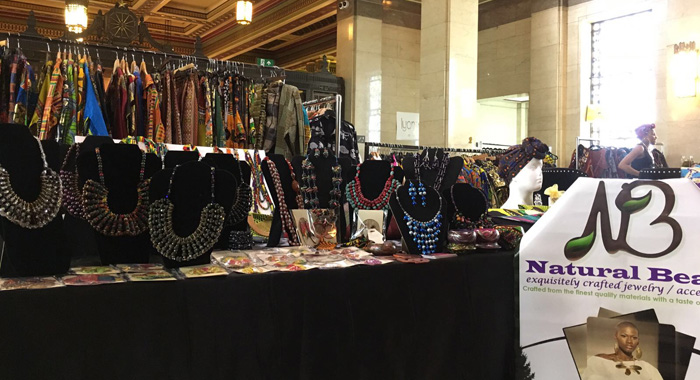 At the event, John launched her "Kinte" collection and she told iWitness News that that the show boosted her confidence.
"It made me think on a higher level also, showed me where there's room for improvement so that my brand/products would be of an even higher standard to compete in a competitive market."
She said that Natural Beats benefitted significantly from participating in the exhibition, with the most obvious one being that more people now know about the brand.
"… through this show the social media pages will now have a lot of traffic, the business is more recognised internationally, thousands of people now know about Natural Beats and potential clients also Natural Beats will be advertised on the Africa fashion week website during the year and is also in their promotional magazine," John said.
John was selected to participate in the event having applied online after submitting to organisers photos of her products.
"Seeing that my designs are inspired by my African roots, and reflect authenticity of that culture, I decided this was something I wanted to take part in," John said.
She was among over 300 designers from across Africa, the United Kingdom and the Americas who vied for selection but was the only designer from the Caribbean at the event.
"My experience was amazing and very enlightening. It showed me new possibilities and has taught me a lot, especially being among my competitors. I have learned new things and had a positive experience overall and hope to be able to do this more often," she told iWitness News.