Traffic in the North Leeward town of Chateaubelair has been diverted after a large sinkhole opened up the road near the playing field  Monday afternoon.
Residents of the town have expressed fears that the situation would worsen amidst continued heavy rains.
The relevant authorities have erected wooden barricades in the area and have diverted traffic as the situation is being evaluated and a fix determined.
The sinking hole was the second major development on the nation's highways on Monday.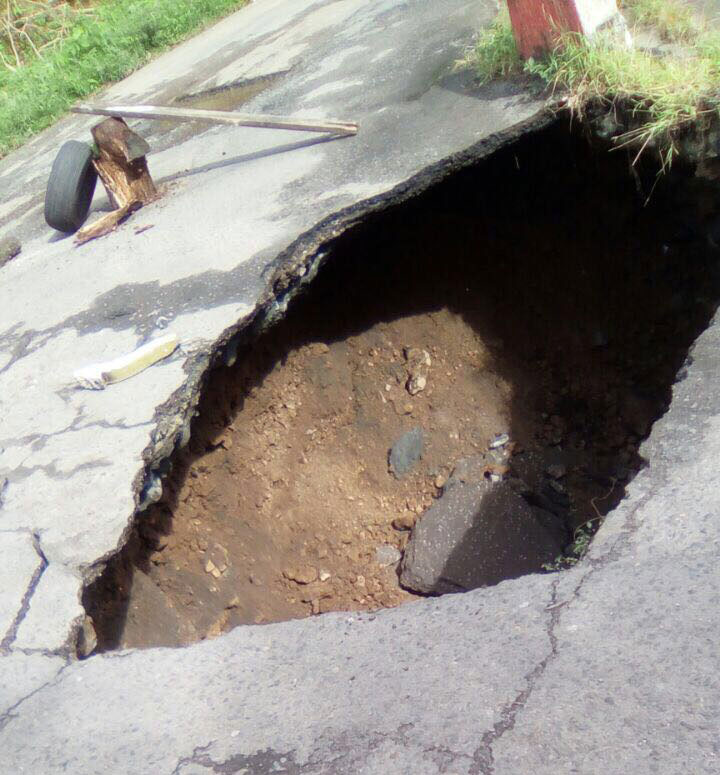 Also on Monday, a large boulder came loose in Argyle and rolled onto the main highway near the Argyle International Airport.
There were no reports of injuries or serious impediment caused by the boulder to the free flow of traffic, which blocked one of the two lanes of the road.
The developments come amidst intermittent heavy rains since Saturday night and a magnitude 5.7 earthquake around 11 a.m. Sunday.
Forecasters said Monday evening that unstable conditions will continue into the night with most of the shower activity seen over the Grenadines.
Moisture at both low levels and mid levels remains high, and model guidance is still depicting the possibility of showers Tuesday and on Wednesday.
Residents and motorists were, therefore, advised to exercise caution.
On Sunday, St. Vincent and the Grenadines was rattled by a magnitude 5.7 earthquake located 68 kilometres northwest of Scarborough, Trinidad and Tobago, 84 kilometres southeast of St. George's, Grenada and 118 kilometres north northeast of Arima, Trinidad and Tobago.
There were no reports of injury or damage in SVG as a result of the earthquake.