St. Vincent and the Grenadines swimmer Shane Cadogan swam to a third-place finish and the bronze medal at the CARIFTA Swimming Championships in Barbados over the Easter weekend.
Cadogan competed in his final year of CARIFTA eligibility as a 17 year-old. His third place in the 50 meter breaststroke event was achieved in a time of 30.32 seconds. Cadogan also qualified in the 100 meter breaststroke and the 50 meter butterfly events, where he finished in 8th position in both events.
SVG swimmers have now won medals at CARIFTA swimming for seven straight years.
The 2019 CARIFTA Swimming Championships was ended on Tuesday after four consecutive days of highly competitive age group swimming.
The event at the Aquatic centre in Barbados featured over 300 of the Caribbean's best swimmers from 21 countries.
SVG sent a team of 11 swimmers, its largest number of CARIFTA qualifiers to date. In the girls teams were Kevern Dasilva, Mya Defreitas, Abigail Deshong, Kenice Green, Tia Gun-Munro and Jamie Joachim. The boys team consisted of Shane Cadogan, Aaron Defreitas, Bryson George, Alex Joachim and Eltonté Leonard.
Team SVG had some fantastic swims throughout the event and were able to get seven of the 11 swimmers to achieve individual finals in 13 different events.
2018 CARIFTA gold medalist, Alex Joachim competed in his first year of the boys 15 to 17 years age group.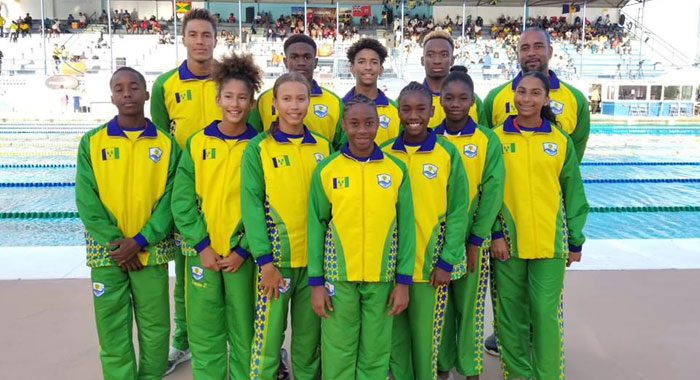 Up against boys two years his senior, Alex was able to make it to the finals in the 200 meter breaststroke (7th position) and 200 meters butterfly (6th Position). Alex time in the 200 meter butterfly set a new SVG record with a time of 2 minutes and 19. 75 seconds.
In the boys 11 to 12 years age group, Eltonté Leonard successfully made it to three finals(200 meters breaststroke — 7th –50 butterfly — 7th — and 100 metres breaststroke — 8th) and in the 13- to 14-year-old age group, Bryson George got a finals spot in the 100 meters breaststroke (8th)
The girls representing SVG also made their mark on the event, with long distance specialist Mya Defreitas finishing 6th in the 400 meters freestyle and 7th position in the 800 meters freestyle in her first year competing in the 13 to 14 age group.
Attending her first ever CARIFTA competition, Kevern Dasilva was swimming in the first year of the 11 to 12 age group and made the finals and finished 7th.
Dasilva was the first SVG swimmer to make it to the finals in her first year of eligibility.
Abigail Deshong, also attending her first CARIFTA, swam in the second year of the 11 to 12 age group and completed the 50 meters butterfly final, finishing in 6th position.
"The SVG Swimming Federation is proud and pleased with the outstanding performances and effort of its young athletes," it said in a press release.
"We continue to see improving performances and we have seen a fine group of young swimmers being developed.
"We thank our partners and sponsors including the National Lottery, the National Sports Council, FLOW, CGM Gallagher Insurance Broker, the National Olympic Committee and our international governing body, FINA. Without their continued support, SVG could not compete at the CARIFTA Games level."