Commissioner of Police Colin John says investigators often identify within hours after a killing the suspected killer(s) but witnesses are often reluctant to testify in court.
John said this reluctance persists despite the Witness Special Measures Act that allows witnesses to testify anonymously and the country's witness protection programme.
"We also have a witness protection programme in St. Vincent and the Grenadines, but persons, for one reason or the other, may be concerned about their safety or the safety of their family," John said last week on Boom FM.
He said someone might give a statement to police but might opt not to testify after consulting relatives.
The top cop said people make these decisions "notwithstanding the fact that we will tell them that your identity does not have to be revealed, we can put certain things in place to, as far as possible, ensure your safety and the safety of your family but persons may still have concerns".
He said there is a matter before the court where the witness is an anonymous witness.
The police chief was speaking even as SVG had recorded six homicides for the year, including two people killed by police in the line of duty.
Since then, the number has risen to eight homicides, six of which have been classified as murders.
In 2022, the country recorded 0.8 homicides per week, compared to 1.3 per week so far this year.
This comes following a record 42 homicides in 2022, including five double murders. Of these 42 cases, police have made arrests in "between 10 or 12" of them, the police chief said.
"But the thing is, we have to bear in mind that there is no statute of limitation as regards murder or those offences," said John, a lawyer and former deputy director of public prosecution.
"So, the fact that they were not charged within a particular calendar year doesn't, in any way, mean that they cannot be charged at a later date," he said.
John said that over the last three to four years, crime in SVG has decreased, generally.
"But the murders have been fluctuating. That is the part of it that is causing concern because [of] sensationalism and the media hype. As one Jamaican artiste said, good news don't sell paper. So, persons would look at the negative."
He continued:
"And, the police seem to be the perfect punching bag for persons and everybody who can hook up to someone's Wi-Fi or who has it on their phone is an authority on everything so, they can punch on the police and say this and say that and everybody knows how to do the job of the commissioner of police and the police better than the police officers who are trained to do it."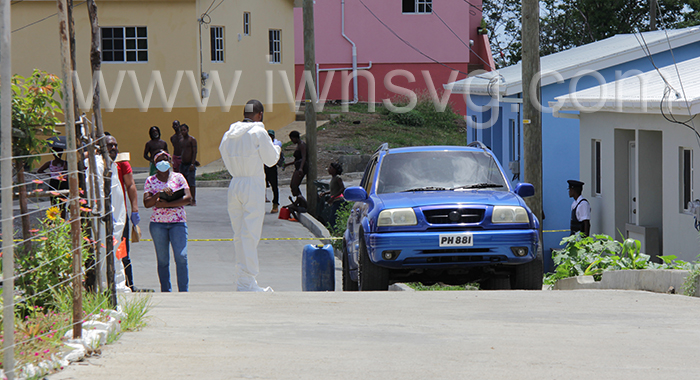 He said he and his officers take seriously the safety of the population.
"So, it is not something that I am shying away from or that the organisation is anyway neglecting its obligation to the citizens and visitors to St. Vincent and the Grenadines."
The police chief said the constabulary has a three-year policing plan that rolls over annually.
"So, we would review the plan at the end of each year and after that we will see things that we did well and things that we did not do too well and try to improve on those areas."
He said that on reviewing last year, "there is need for improvement.
"The different divisional officers or divisional commanders, they made presentations as regards their divisions, their branch, their department and we are assessing that. We are reviewing that. We are looking at the way forward regarding how we can improve on our performance from last year."
He said that last year's record number of killings is a blot on the constabulary.
"It is not a proud record but the police cannot be everywhere at every time. But we were able to prevent quite a few as well. We went back to the drawing board and we are putting things in place to ensure, or as far as is possible, that that does not recur."
The police chief spoke about increased police presence in Paul's Avenue and in Rose Place.
"These are areas that we regard as hotspots, and we are ensuring that the presence of the police [is] there at all times. It is not that we can prevent totally things like that from happening but we are trying our best to do what we can to ensure that the people of St. Vincent and the Grenadines are safe and that they remain safe."
There has been a number of shootings and killings in Paul's Avenue in recent years amidst what has been described as a war among rival factions connected to organised crime.
"We have intensified our patrol in the area. We are speaking to persons in the area. We are conducting operations in that area and similar quote-unquote hotspots in St. Vincent and the Grenadines," John said.
He said the new policing tactics are expected to be more effective than those used in the past, such as a mobile police unit.
"There is still a substation in Ottley Hall but the mechanism we have put in place, I think it would be more efficient than just placing a mobile unit," John said, emphasising that there is now 24-hour patrol in Paul's Avenue and Rose Place.