By Kenton X. Chance
KINGSTOWN, St. Vincent (CMC) – The head of the United Nations Office for Disaster Risk Reduction (UNDRR), Mami Mizutori, says "even if lives are saved, disasters do crush livelihoods," as she visited some of the areas in north-eastern St. Vincent affected by climate change and the April 2021 eruption of La Soufriere volcano.
Mizutori, who is also the special representative of the Secretary-General for Disaster Risk Reduction, told the Caribbean Media Corporation (CMC) that she wanted a first-hand view of how the country and affected communities are recovering from the disasters.
"But what we see is that it takes a lot of time and energy and, of course, money to recover and reconstruct," she said, noting that the eruption occurred during the height of the coronavirus (COVID-19) pandemic that killed and infected millions of people across the globe.
"The good news, of course, from the volcano eruption tragedy was that the government, the national authorities for disaster risk reduction, and prevention and response, were sensitised enough, and they could evacuate everybody, which I think is a very good story," she told CMC in Sandy Bay as she interacted with people who were personally affected by the eruption.
"However, even if lives are saved, disasters do crush livelihoods, as we see here, right now in Pepper Village. So that's why we believe that it's very important, the prevention part, don't build where your livelihood will be totally destroyed, be aware of the hazards that are surrounding you.
"And, of course, at the end of the day, international cooperation needs to come in for both response but also prevention. And so, we want to share this story to many people, governments outside the region as well as a very good example of evacuation but need for more prevention," Mizutori said.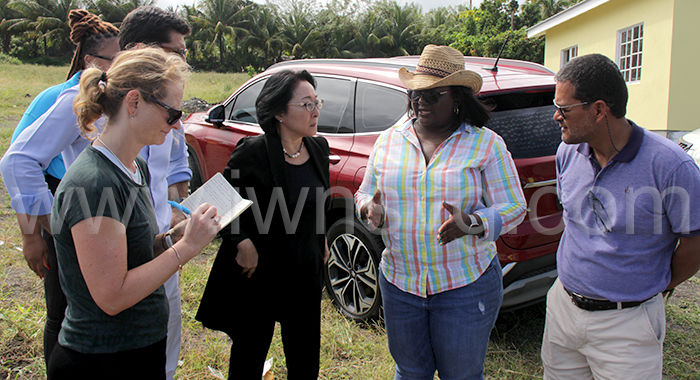 The senior UN official also visited Georgetown, where the government spent EC$24 million to install a sea defence to help to combat the impact of rising sea levels, and housing projects in Orange Hill, where the state is building houses to accommodate people whose homes were destroyed or rendered unsafe by the volcano.
She also visited bridges in Overland and Magum, which have been built to deal with problematic seasonal streams in the area.
"Now, it's wonderful that people have new houses. But, of course, relocation not only costs, financial costs, but it's also about the social cost and the cost to the individuals," Mizutori told CMC, adding "we have seen how disasters can devastate and this is what I am seeing personally, once again here in St. Vincent."
She said that north eastern St. Vincent is affected by multiple risks, with climate emergency being the big risk driver, along with geophysical hazards and the impact of the pandemics.
"Now, 90% of major disasters are related to climate emergency, and not only major ones; even small or medium-sized ones that come after time and time again, and I have seen the sea rise affecting the villages and communities."
The UNDRR official said that small island developing states (SIDS), including St. Vincent and the Grenadines "did not contribute to what is happening right now as climate emergency and that's why the Paris Agreement says that the international community needs to contribute 100 billion dollars by 2020 and also that the developed countries need to increase, double their adaptation financing.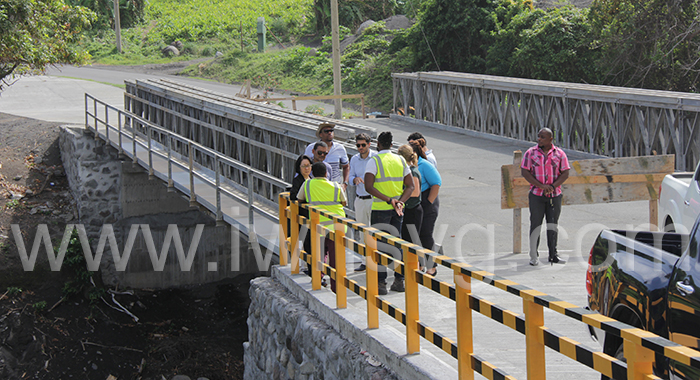 "These promises need to be met. This is the only way that countries like St. Vincent and the entire small island developing states can deal with the climate emergency while at the same time dealing with other hazards. So, this is a strong message that we are sending."
Many developing countries, including SIDS, have noted that the developed world has failed to live up to their promise to help poorer nations finance climate change adaptation and mitigation measures.
Asked what more can SIDS do and whether they have to resort to naming or shaming or moral suasion to have to get developed countries to live up to their financing commitment, Mizutori told CMC "I think we are naming and shaming.
"The UN Secretary General [Antonio Guterres] has been very, very strong, in his words, at every opportunity, not only at the COPs, but saying that the developed countries need to live up to it."
She said she believes that because of "this very strong call at the last COP," nations agreed to the issue of loss and damage fund, having not reached an agreement for 30 years.
"Now, we have an agreement. So, the UN system, for one, we will be keeping to very strongly putting out this message. And, I do think that as you say that is the only way that governments like St. Vincent can sustain their development at the same time responding and adapting to what is coming, but sustainable development cannot be achieved unless we have those promises met," said Mizutori, who is s expected to meet on Thursday with government officials to discuss DRR issues.
Mizutori arrived here after visiting Barbados for the regional launch of the UN Secretary General's Early Warnings for All initiative on MOnday.
"This is an initiative to cover the whole world within five years with effective early warning and early action. And we choose to do the first regional launch in the Caribbean region, because it is so impacted by multiple hazards. And this is why we want to make sure that it's a multi-hazard, inclusive, everybody-covered early warning system," Mizutori told CMC.
She has also visited Trinidad and Tobago, because there are many regional hubs based there, including the Caribbean Meteorological Organization and the Association of Caribbean States.