By Kenton X. Chance
MARRAKECH, Morocco (CMC) — Jamaica's Finance Minister, Nigel Clarke says the International Monetary Fund's (IMF) structural report programme (SRF) has strengthened his country's economy, sustained growth, and eased the burden on taxpayers.
Clarke told a discussion here dubbed "Jamaica: Public Debt and Jamaica Climate Agenda" that as a result of the SRF, Jamaica has sustained economic growth for 20 quarters, twice the previous record of nine quarters.
"… and I'm proud to say that, due to many factors … Jamaica is in a position where we have our economic output for the December quarter of 2022 higher than or economic output for December 2019, our unemployment is lower post-COVID than pre-COVID and, in fact, unemployment rate is at a historical low, has never been lower, at four and a half per cent."
He said that the "many factors" included "a very targeted approach, escaping from our fiscal rules, but making the decision up front that it's better to tighten with the wind behind your sales and to try to tighten afterwards".
He was speaking during a conversation with IMF Western Hemisphere Director Rodrigo Valdes that formed part of the IMF and World Bank Group annual meetings, which wrap up here on Saturday.
Clarke said that many countries, like Jamaica, can say that they emerged from the pandemic with higher economic output and lower unemployment.
"We are in a unique company globally, who can say economic recovery, jobs recovery, but in addition, debt is lower today than prior to the pandemic," he said in response to a question from the audience.
"… our reserves are higher today than prior to the pandemic. So macro fundamentals are stronger today than prior to the COVID 19 pandemic. And we are well on our way to achieve our medium term debt objective," Clarke said.
The finance minister outlined Jamaica's economic history leading to the SRP, saying Jamaicans' experience of decades of macroeconomic instability taught the nation that macro instability "makes growth volatile makes it uncertain, and economic shocks exacerbate and cause other shocks and recovery periods get elongated".
He said the country's economy declined from 1976 to 1980 due to economic shocks as well as social turmoil and only recovered in 1989 to pre-1976 levels.
"In the global financial crisis, the economy declined in 2008, declined into 2009, declining in 2010, the largest being just about three per cent. It took until 2018 to recover to 2007 levels of economic output."
He said such a long recovery period as Jamaica experienced stunned economic development, adding that between 1987 and 2015, Jamaica had 37 quarters of economic growth and 33 quarters of economic decline.
At the same time, in the United States, quarterly growth, measured year over year, saw 76 periods of growth and four of decline .
"Now, when you look at what we've been able to achieve during this period of stabilisation, though it involves tradeoffs, though it involved compression, we had 20 consecutive periods of quarterly growth between the end of 2015 and 2019, the longest period of unbroken quarterly growth since we started measuring it in 1997," Clarke said.
Before the SRP, Jamaica had only seen a maximum of nine consecutive quarters of economic growth.
"… and with the stabilisation efforts, though it involves a trade off, though it involves compression, what comes with it is less volatility, longer periods of growth, it elongates economic cycle and gives us a greater chance for economic development."
Clarke, however, said the turn around in the Jamaican economy did not come about because of the IMF alone.
"In the case of Jamaica what you have was a country that wanted to reform, that wanted to change that made the reform its own," he said, adding that while the principles are common, they find expression in a particular country.
"In terms of what you can do differently, fund programmes don't only operate in an economic context, they operate in a political economic context and understanding the goals and aspirations of the people."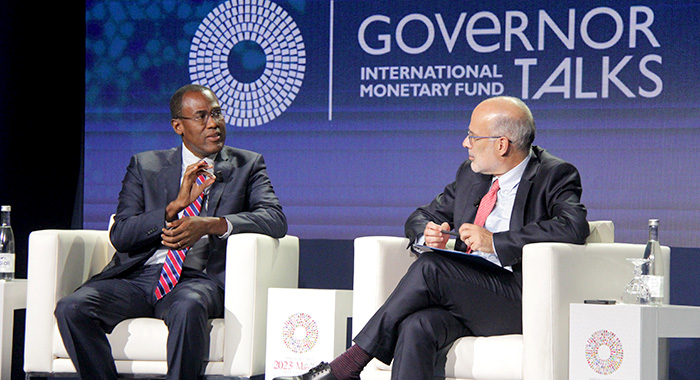 He said Jamaica has "engaged in this sort of consolidation effort" beginning in 2013, noting that before then, the government that came to office had "all intentions to do the right thing".
He said that then prime minister Portia Simpson-Miller went to the people of Jamaica "and told them the truth back in 2010, that bitter medicine was to come.
"Well, you promptly lost power and served for the shortest time in Jamaica's history. But what that meant was that an incoming government had no choice but to implement austerity in the context of an ongoing government that formed opposition that campaigned on it and lost," Clarke said.
"Jamaica never had a better chance in terms of the political forces at work," the finance minister further commented, adding that the situation "provided the platform that was leveraged to the credit of the government that followed.
"And Jamaicans reacted with horror, to find out that the sacrifices they had made in the first Fund programme of 2010 had to be repeated and deepened," Clarke sad, as he spoke about debt exchanges and wage freezes, adding that he demanded people to be at the table for the conversation.
"And what started out as a public sector equivalent of a creditor committee and external creditor committee, gained social credence with the inclusion of the unions and academics and Jamaica innovated this concept of stakeholder oversight and involvement that we call the economic policy oversight committee, which is a key innovation that has lasted across administrations and has been exported to other parts of the world."
Clarke said that one true thing about all democracies is "that policies will continue if they have domestic support".
The finance minister said that in generating domestic support for the continuation of "stabilisation policies and policies that right the structural imbalance in the Jamaican economy has come about because we've been able to demonstrate their effectiveness.
"And we've been able to strategically share the gains," Clarke further stated, adding that for 18 of the 22 years before 2016, every budget involved new and higher taxes on the Jamaican people.
Since 2016, we have had no net new taxes on the Jamaican people… And for the last six budgets. We've had no new taxes whatsoever," Clarke said.
"Jamaica has never had a period like this before and people, it's very easy to relate this experience to the discipline, the prudence and the commitment to sustainable policies. And when you experience something like that, that you've never experienced before, it helps to consolidate and to deepen support for reforms."
Clarke also cited an example of the progress the country has made during "the period of chronic macroeconomic stability", saying it would have been slower but for the SRP
"… we have highway projects in the east, highway projects in the southwest, highway projects in the north in terms of the Montego Bay bypass. Never before in Jamaica's history, had people been able to see the pace and scale of development, both private sector-led and public sector investment that we have today.
"And that is a demonstration effect that we are on to something good, we're experiencing a major positive that that we have not before."
He said a third thing is that the government has shared the gains.
"As soon as the opportunity presented itself, we gave taxes back to the Jamaican people. So not only did we not introduce new taxes, but we have given back and lowered taxes to the Jamaican people who have had the experience of continuous tax increases and that has come about during this period of stabilisation during this period of commitment to sustainable policies."
Clarke said he thinks the SRF is "an incredible instrument, one that we have lobbied for for a long time"
He said it is concessional funding that recognises the broader dimensions of vulnerability.
"Twenty-year funding from the IMF, 10-year moratorium; unheard of. And so as that product was developed, we made sure that we were one of the first to access it."
He said it is money that comes at a critical time of rising global interest rates and refinancing challenges.
"And we are able to pre-finance our refinancing with this facility, but it also comes with the support for the kind of climate finance-related reforms that is allowing us to crowd in private investment.
"With the RSF we have been able to update our public private partnerships, regulatory and policy framework by ensuring that climate related and green considerations are a part of the PPP (public–private partnership) policy mix."
He said the government has updated it public sector investment programme to make sure that the screening and privatisation of public investment projects takes on a climate resilient lens. "
The finance minister spoke to the challenge of developing big green infrastructure projects.
"… it takes money to prepare the projects and bring them to market and you're competing for scarce resources for which there are high priority areas to which they can be deployed. social expenditure being one prime example," he said.