By Kenton X. Chance
MARRAKECH, Morocco (CMC) — The International Monetary Fund (IMF) Friday described as "appealing" the proposal by the Barbados-based Caribbean Development Bank that the recovery duration adjuster (RDA) be used to determine access to concessional finance.
The CDB said that RDA better reflects the economic, social, and environmental conditions of small island developing states and is therefore an appropriate metric.
"This idea of the Caribbean Development Bank is appealing and therefore merits analysis," IMF Western Hemisphere Director, Rodrigo Valdes told the Caribbean Media Corporation (CMC).
"We don't have yet enough details to have a view on this. At the same time, we have to be careful in terms of the resources for concessional access," said Valdes, who is attending the annual meetings of the IMF and the World Bank Group, which ends here on Saturday.
"Now this competes with other needs at the same time, but overall, the view that only income level defines vulnerability, I think, is a very appealing concept in general. We'll see whether it can be operationalised in a conducive way," Valdes added.
Valdes, spoke also at a news conference where the IMF released its October 2023 Outlook for the Western Hemisphere, titled "Securing Low Inflation and Nurturing Potential Growth".
The report noted that geopolitical tensions would also impair global cooperation on common challenges, including climate change.
"Tackling climate challenges is a balancing act of weighing the costs versus the benefits of climate policy.
"For example, countries in the region that rely heavily on fossil fuel revenues could face a tradeoff between scaling down investment in fossil fuels to contain transition risks (for example, stranded assets) and continuing to invest in fossil fuels to secure higher revenues."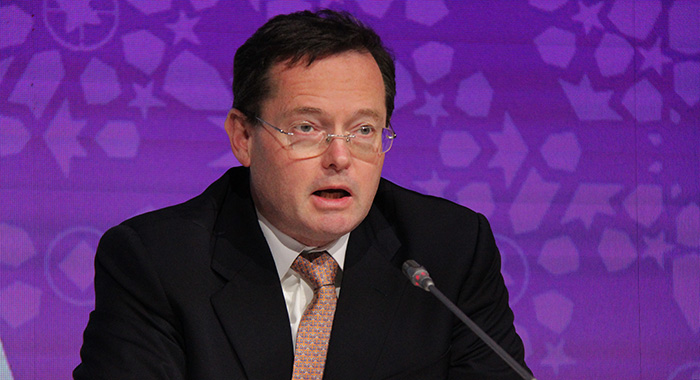 Speaking at the same press conference, IMF Western Hemisphere Deputy Director, Nigel Chalk, said it is important that the Caribbean look at building its resilience to climate change.
"And that's multifaceted," Chalk said, adding that this means shifting towards renewable energy sources.
"Part of it is to strengthen its infrastructure to be much more resilient to the increased frequency and intensity of storms and hurricanes the region is facing."
Chalk mentioned the IMF's resilience and sustainability fund programmes with both Barbados and Jamaica, "where we're pursuing a lot of these reforms.
"We're providing capacity development to the region on many of these areas, including areas such as green taxation, commercial green financing from the private sector. And so I think there's quite a large investment from the fund in the Caribbean to try and help them make this transition towards a lower carbon and a more resilient economic system," Chalk said.
The annual meetings are being held in Africa for the first time in 50 years and the processes through which developing countries access developmental financing and debt restructuring have come under scrutiny.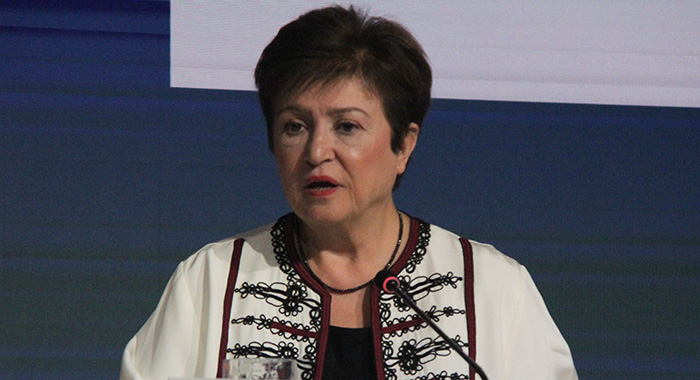 At a separate press conference, IMF Managing Director, Kristalina Georgieva, responded to the view that the G20 Common Framework, which is intended to deal with insolvency and protracted liquidity problems, along with the implementation of an IMF-supported reform programme.
Georgieva was told that the G20 Common Framework is too slow and perhaps a key solution is not being considered: debt cancellation, particularly given the burden that it is having on the world's poorest countries.
"… but we see an encouraging sign that the time taken to reach an agreement among creditors is shortening with every step."
She said the Common Framework is new, and "it brings together a very diverse group of creditors, the traditional creditors, the Paris Club, but then new creditors, China, Saudi Arabia, India, Brazil, the Emirates, and a very diverse group of private creditors.
"We have seen in the past, it has taken quite a long time for the Paris Club to fully codify the way it functions. So, my plea is pressure, pressure for speed and efficiency, but do not throw the towel of the Common Framework because if we lose it, then we are back in a much less predictable environment," Georgieva said as she responded to the question which was framed in the context of the situation in Africa.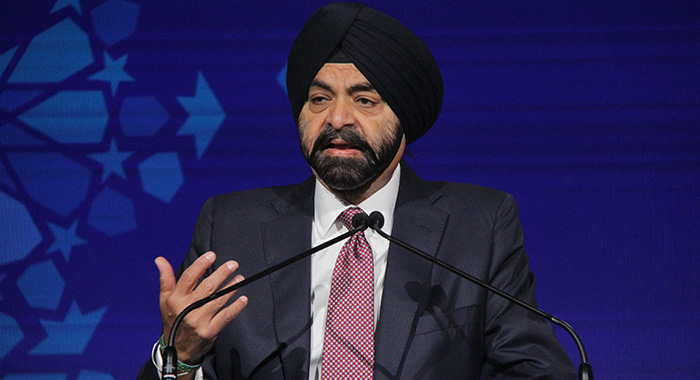 World Bank President Ajay Banga , speaking at another press conference, responded to a question about whether the burden of debt is hindering progress towards achieving the Sustainable Development Goals (SDGs) and net-zero – the balance between the amount of greenhouse gas that's produced and the amount that's removed from the atmosphere.
"So first of all, there is no doubt that the debt burden hinders development," Banga said.
"And you know, whether you measure that development output with SDGs or you measure it at local circumstances, for every country, the reality is, it hinders it because it crowds out the ability to invest in the things you need to invest.
"The question of should you replace the Common Framework with something, you gotta have a really good idea of what you think that something is, before you blow up the only thing that's beginning to work."
He cited Zambia as an example of a country in which the Common Framework has worked, saying that the southern Africa nation "got out of their debt situation, after a long process.
"Are we seeing progress with Ghana. You're seeing progress with other countries as well," he said, but noted that in these countries' external debt has changed.
"… where earlier the so-called Paris Club used to be the largest contributor to that debt, today, you have the non-Paris Club countries, adding to the bilateral debt in these countries.And so and you have commercial creditors as well."
Banga said that since the debt markets have completely changed from 25, 30 years ago, countries have to make sure "that all these people are at the table together, and that the debt that they have to these debtors is clear, transparent and innumerable.
"So you will find a lot of the debt has covenants and pricing that is also covered in confidentiality clauses, which didn't allow for them to be clearly mapped and understood. If you don't understand what the numbers are, no new framework will change that. You first need to get the facts and then you can sit down together and negotiate how to get that debt down," the World Bank president said.
"I'm a believer that that is the right way to get it done. I wish there was a magic wand that said abracadabra we'll just wipe the debt out of the system. I don't think that's likely to happen. I think this is hard work and it needs to be done the right way," said Banga, who began his five-year term as World Bank Group President on June 2.