At the Everything Vincy Expo Plus in Arnos Vale, two Vincentian men were sharing their education at Richmond Vale Academy (RVA) that has transformed their lives and put them on a path to help to preserve the planet.
Dexter Williams, 28, of Old Montrose and Rose Hall, and his cousin, Nemron Miller, 30 of Layou, are using the expo to introduce other young people in St. Vincent and the Grenadines to the scholarship opportunities at RVA.
In November, Williams will take up studies under a scholarship after which he would sign a two-year contract to work for RVA.
"I'm doing the ecological farming programme for six months. And I've been granted a good opportunity because Richmond Vale Richmond Vale has got approval for a grant that after my six-month programme, I will be doing a two-year contract where I help make 100 home gardens in St. Vincent," Williams explained.
"And that's a real blessing because I want to actually save the country; let people know that organic farming is healthier for them also. And it's better for the country because of less chemicals. We would not be affecting the sea as much,' he said, noting that RVA also has a course in coral restoration in which Miller is involved.
Williams is a graduate of the Technical College, where he completed the mechanical engineering course.
"I really wanted to be a mechanic because I like vehicles. I like going into stuff into cars; taking an engine apart and putting it back together. I like making things happen."
And that is why he took an interest in and then enrolled in the RVA's programme.
Williams explained that he first learnt about RVA and the fact that Vincentian can apply for and obtain scholarships to study there from his cousin.
He said that back then, he was impressed with a home garden that Miller had built.
"It was so breath-taking," Williams recounted. He said he grew up in a community, where traditional, chemical-based farming is done.
"And he (Miller) did it organically … using grass that he had trimmed, rather than chemicals, for weed control.
"It was really intriguing that you take nature to make nature better. So, from that, I was always telling him, 'You need to let me join the programme with you so I could be doing what you are doing.'"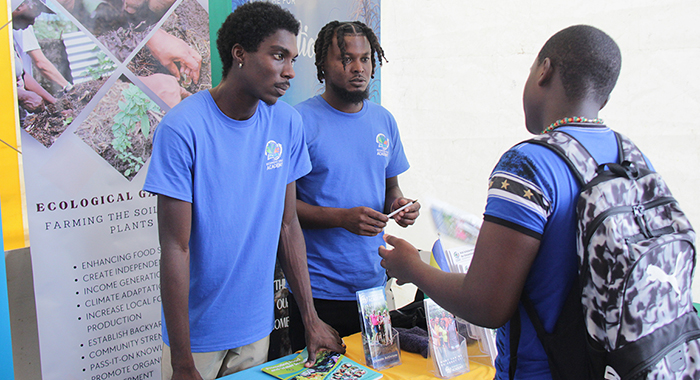 Williams, however, said that his cousin told him to wait as participants in the programme must be focused.
"Then I realised you have to be serious about it. That if I am not really serious about it, I would really just waste my time."
William said he finally signed up in August and has been visiting RVA frequently since then, and would commence his programme next month.
"And since then, I've just been a part of the family because I've been there, like six times since August…
"I got a scholarship from Richmond Vale Academy. So, they're gonna take care of my room, my food and transportation for the six months."
He said that the programme is "very educational" and one in which as many people as possible should enrol.
"Because in the long term, it's very beneficial. Because there's global warming and climate change that's affecting the world rapidly every day," he said.
Williams opined that St. Vincent and the Grenadines should aim to produce 60% of the food its people consume and should do so organically.
It is a view Miller also shares, saying that he sees first-hand the impact of climate change.
After completing his six-month programme, which was also financed by a scholarship in 2019, Miller returned to RVA about two years later as a full-time employee.
At the RVA, he is the conference centre host and educator and a diver under the coral restoration programme.
Before his encounter with RVA, which a friend introduced him to, Miller was at home "doing nothing".
"Now, I have a five-year contract with RVA and most likely, I might do an extra five years," he said.
Miller is hoping to save enough money to buy "a good amount of land.
"So, then I can really show people that organic farming is actually working and it was working before we were conditioned to think that we need synthetic fertiliser, spraying with Gramoxone and all these different pesticides. Because we don't need them."
He said that in the long run, they end up in the groundwater and in the sea, destroying the marine ecosystem.
"If you learn about permaculture and how it works, you don't need to do these and also you can create more jobs for the other people in the community, instead of spraying with chemicals."
He said that his six-month programme at RVA was funded by a scholarship and while studying there, he received a stipend that he used to pay for his first open water dive certificate.
With this certification, Miller could use a skill he had had from childhood to help earn a living, as he is employed in the RVA's coral restoration programme.
He, however, said that their coral farm is being affected by climate change, as evidenced by the ongoing heatwave that is affecting SVG.
"We had to move our corals and the trees down into deeper water because the temperature is too high. Right now, it's between 30 to 31 degrees Celsius and coral usually survives best in like 28 to 29 degrees," Miller explained.
He urged everyone to do what they can to help to reduce the impact of climate change.
"… because we might be a small country or we might maybe do like 0.001% of damage compared to the bigger countries but we still contribute," he said.
Miller encouraged people who are interested in the RVA's programme or in having a permaculture garden set up at their homes to visit their staff at the expo, which is taking place at the site of the decommissioned E.T. Joshua Airport.