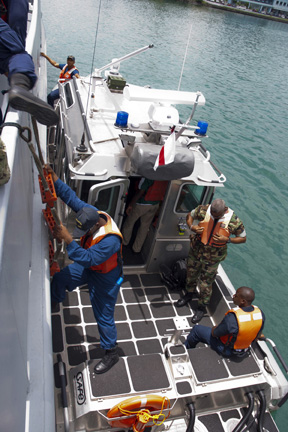 In a simulated counter-drug operation led by U.S. Coast Guardsmen in Port Castries, St. Lucia, a team of personnel from more than six partner nations boarded a suspect vessel.
The U.S. Coast Guard helped orchestrate the boarding party and also portrayed the crew of the boarded vessel — Trinidad and Tobago's fast patrol craft CG14 TTS Chaconia.
The takedown and boarding scenario represented the culminating exercise of Tradewinds 2013.
The takedown and boarding of vessels for the search and seizure of contraband is a routine operation for the U.S. Coast Guard Petty Officer 1st Class, Nathan Fornicola.
Fornicola, a maritime enforcement specialist with the Coast Guard's 1st District in Boston, Massachusetts, said the aim of this exercise is to help standardize operations among participating nations.
"My team is composed of [personnel from] six different countries," said Fornicola. "This [exercise] shows each country a single approach to doing a boarding and gets everybody on board with the same procedures."
The procedures recommended by the Coast Guard for a search and seizure are designed to maximize the safety of all personnel, while maintaining a calm and cooperative atmosphere on the boarded vessel.
In Fornicola's experience, a hostile boarding party is usually met with hostility in return.
"If the boarding party reacts a certain way, the role players are going to feed off of that. If they do the job properly, the boarding team will maintain a neutral and authoritative posture," Fornicola said.
He added that careful treatment of a boarding may avoid instigating aggression in a real-life takedown scenario.
Tradewinds, which concludes with a ceremony today, is a joint, combined exercise conducted in conjunction with partner nations, including the Dominican Republic, to enhance the collective abilities of defence forces and constabularies to counter transnational organized crime and to conduct humanitarian/disaster relief operations.