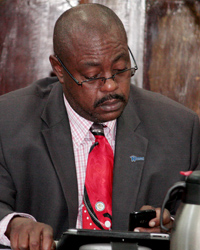 An experience with a mother, who said she couldn't afford food for her child, has resulted in Minister of National Mobilisations, Frederick Stephenson, reminding Vincentians to prioritise.
Stephenson recounted the experience in Parliament last week.
"We know that times are hard. We know that things are tough out here, but I will always say to people, as my honourable friend, Dr. [Douglas] Slater (Minister of Foreign Affairs) said, people must learn to live within their means.
"Mr. Speaker, I sat in my office a few days ago and a young lady came to me and said she was looking for some help for her child. The conversation is going on. She said things are hard, she can't buy food. I heard a beep, Mr. Speaker, and I saw the lady pull out a Blackberry Torch, one of the slide-up ones. That's twenty-five hundred dollars," Stephenson said in reference to the price of the phone.
He further said he believes this country, which has a population of about 105,000, has more Blackberry smartphones per capita than any other Caribbean country.
"Mr Speaker, people have to learn to live within their means. … Too many of our people are not doing so. They want the latest things. They participate in all the aspects of Carnival, which is good, but at the end of the day, they come to the ministry and they will meet you in the street, as parliamentarians, and ask you to buy school uniform and school books for their children.
"Mr. Speaker, our people must be resolute, our people must understand that times are hard, and they must do all in their power to live within their means," Stephenson said.