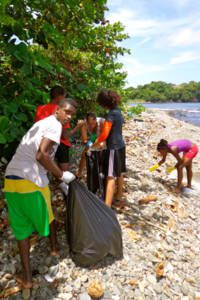 The SVG National Rugby Club hit the beach again to clean up another area suffering from garbage pollution.
The club cleaned Great Head Bay — behind the Arnos Vale Sporting Complex.
The clean up was carried out to tie in with the test cricket matches between the West Indies and Sri Lanka.
The matches, which are due to take place from June 12, will see tourists and locals coming to the area.
This particular beach is a great spot for a cool down during or after the game, but has been affected for quite some time with garbage and is often overlooked by persons who clean up St. Vincent, the club said,
The club further stated that it is dedicating time to community outreach projects all over St. Vincent and the Grenadines and will continue on a monthly basis to conduct cleans, visits and help in the community.
If you are interested in the club helping you or your community, or if you would like to get involved, you can contact the club via email [email protected] or visit them on Facebook.