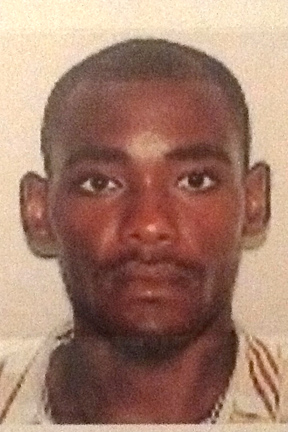 The man wanted by police in connection with the robbery of a woman and the shooting of police officer in Kingstown Thursday morning, was up to 2 a.m. Saturday communicating with people via the social networking website, Facebook.
In fact, the wanted man, 24-year-old national footballer Dwaine Darius Peters Sandy, of Brighton, has changed his Facebook profile photo at least three times since the incident, even as police hunt for him and circulate "wanted" flyers printed with his photograph and physical description.
Police say Sandy is 6 feet five inches tall, of medium built, has brown eyes, light brown skin, has a long face and thick lips.
They say he is "armed and considered dangerous" and are asking anyone with information about his whereabouts to contact the Criminal Investigation Department, the Criminal Records Office or the Major Crime Unit, at telephone (1-784) 456-1810 or (1-784) 457-1211.
A senior police officer told I-Witness News on Friday that Sandy should turn himself in and that persons in communication with him should advise him to do the same.
Reports say that a male robber escaped with some EC$100,000 (EC$1=US$0.37) having snatched a bag containing the cash from a female employee of the Postal Corporation.
The incident occurred along Halifax Street, near to the Postal Corporation.
Police Constable Jolani Jack, who was on patrol close to the Postal Corporation, is said to have gone to the woman's assistance and was shot three times by the robber.
The cop is said to have returned fire, but the assailant fled the scene, triggering a police manhunt.
The police was taken to hospital.
I-Witness News was able to verify that a Facebook account in the name of "Dwaine Sandy" is indeed used by the wanted man.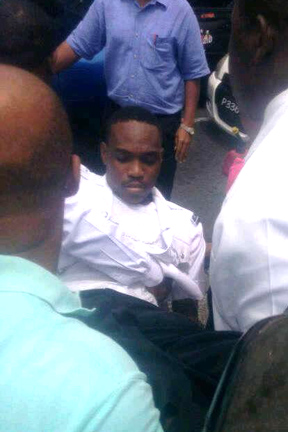 The profile photo on the page was change around 10 p.m. Thursday to a photo of deceased rap star Tupac Shakur featuring lyrics of one of the rapper's hit song.
The photo features the last few lines of the song "Me Against The World"
I know it seem hard sometimes but/Remember one thing/Through every dark night, there's a bright day after that/So no matter how hard it get, stick your chest out/Keep your head up, and handle it
The song begins:
Can you picture my prophecy?/Stress in the city, the cops is hot for me/The projects is full of bullets, the bodies is droppin/There ain't no stoppin me
The profile photo was also change around 10 a.m. Friday to a photo of Sandy with what appears to be a Grenada national flag in the background.
Further activity on Facebook suggests that Sandy added at least one person to his Facebook network between 6 p.m. Friday and 4 a.m. Saturday.
A person who said that they had communicated with Sandy via Facebook told I-Witness News that the wanted man says he is innocent and that he is not in St. Vincent.
The source further told I-Witness News that Sandy has not said where he is and that they have encouraged him to turn in himself.