The man wanted by police in connection with the robbery of a postal worker and the shooting of a police officer in Kingstown on Thursday is now in police custody.
Dwaine Sandy returned to St. Vincent from Grenada on board a LIAT aircraft shortly before 11 a.m. on Monday.
Vincentian attorney Grant Connell escorted Sandy back from Grenada, but it is not clear how long Sandy was in that country.
Connell told reporters outside the airport that his services were retained "a few days ago" with the specific purpose of returning Sandy to this country.
The lawyer, who asked reporters to be excused to meet with his client, said that Sandy was innocent.
Several police officers from the Criminal Investigations Unit met Sandy and Connell on the tarmac of the E.T. Joshua Airport.
The lawyer and his client were the last passengers to disembark the aircraft, with Connell exiting first, followed by the lanky Sandy, who was dressed in blue jeans, white sneakers, and a brown short sleeved shirt. He was also carrying a backpack.
After the two exited the aircraft, the lawyer spoke briefly with the police officers before they all went into the terminal building.
A few minutes later, Connell, along with a police officer re-embarked the aircraft. The two then exited the aircraft and returned to the terminal building, after which the other police office and Sandy re-embarked the aircraft.
The group later disembarked the aircraft for a second time and went into the terminal building before emerging again.
The wanted man was then placed in an unmarked police vehicle and whisked away to Kingstown.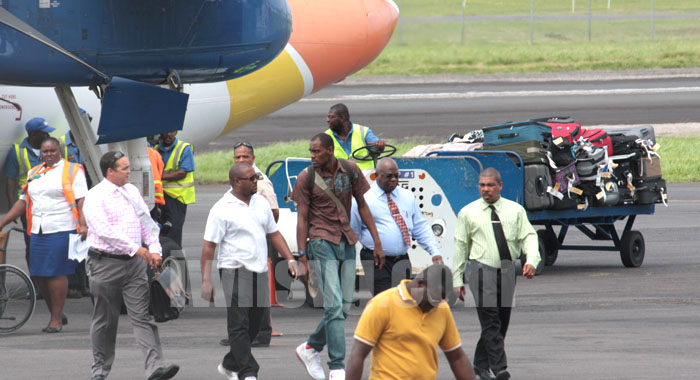 Connell left the airport a few minutes later in a private car after speaking with reporters.
Connell had telephoned a local radio programme Monday morning on which Director of Public Prosecutor, Colin Williams, was a guest.
The lawyer sought the DDP's assistance in informing Commissioner of Police, Keith Miller, of intention to bring in the wanted man.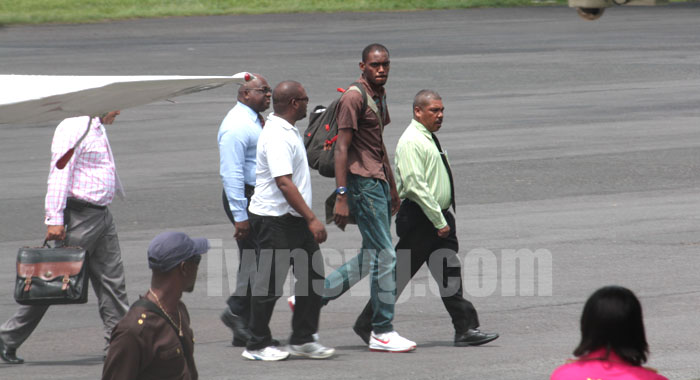 The lawyer said he had failed in his efforts to reach the police chief.
Sandy told I-Witness News Monday morning that he and Connell were in Grenada awaiting a flight to St. Vincent. He further said that he was innocent and that he was being "framed".
Reports say that EC$100,000 was taken from the postal worker during the robbery. A police officer who went to the assistance of the postal worker was shot, reportedly three times. He was taken to hospital.