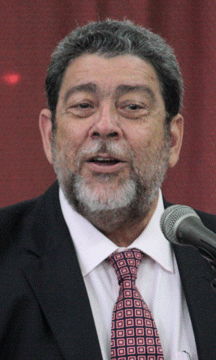 Prime Minister Dr. Ralph Gonsalves says he is conscious of the deterioration of some of the nations roads and that his government is trying to fix them.
He said preparatory works are on-going in relation to the $40 million dollars project to repair the road from Hospital Corner in Kingstown to Layou in Central Leeward.
"But you know all the engineering work has to be done, all the design work has to be done. These things are taking longer and I get frustrated," he told Parliament last week.
"As the Minister of Works [Sen. Julian Francis] outlined, he has to keep patching them. In fact, I was talking just this week for us to get some engineering assistance and top class engineers are very expensive to get.
"And the Chief Engineer is doing his best with his team but the amount of work is overwhelming. And sometimes I get sorry for them. And I have to thank them for the splendid work they are doing," Gonsalves said.
He said his government was negotiating $40 million from the European Union for a secondary road.
"And to make it even [more] attractive to them, I said we will change, along the secondary roads, the nature of the streetlights to LED lights for energy saving…"
He added that VINLEC, the state-owned electricity company, has already installed 100 LED streetlights on Back Street, Kingstown.
Further, Gonsalves said his government has held discussions with the Bolivarian Alternative for Our Americas (ALBA) and the Minister of Foreign Affairs in Venezuela on a special programme in relation to roads.
"Because I am conscious about the deterioration of the roads. And it is very expensive. And you have so many cars now that you didn't have before. And I know it is frustrating and I want people to knew that I am actively looking for solutions," he said.
Gonsalves, who is also Minister of Finance, urged persons to pay up their drivers and motor vehicle licenses.
"Please pay them up. Because, it is not a lot of money compared to what is required for the roads but every little bit helps.
"And in any case, if you don't licence yourself or also the vehicle, your insurance will lapse and if you knock down anybody, everything is on you. And you could lose your licence," the Prime Minister said.