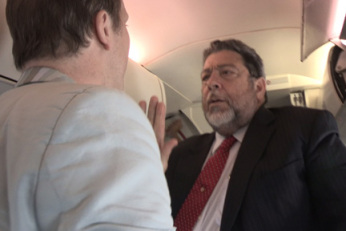 Prime Minister Dr. Ralph Gonsalves says he is still awaiting the outcome of an investigation by the British Broadcasting Corporation (BBC) after he complained to them about being "accosted" by two of their journalists in Barbados in February.
"I haven't gotten any feedback," Gonsalves said last week when asked for an update.
He added that he had made public all his communication with BBC but has since received two letter "of a very general nature" from Lord Chris Patten, chair of the BBC Trust, with whom he filed his complaint.
"In fact, they were delayed in relation to things I had sent earlier," Gonsalves said of the letters from Patten.
Asked if he was still seeking redress, Gonsalves said:
"As far as I know, I have not been told yet as to the results of their inquiry — what they have done. And I am awaiting to hear because that is what the chairman of the BBC Trust, Lord Patten, had said to me," Gonsalves further said.
Gonsalves has said that BBC journalists Matthew Hill and Paul Kenyon accosted him on a landed plane in Barbados in February.
The journalists had come to St. Vincent as part of a programme about Dave Ames, chair of the company that owns Buccament Bay Resort and failed, during their time here, to secure an interview with Gonsalves.
They BBC journalists told I-Witness News that they asked Gonsalves on the aircraft about certain allegations.
The men were working on an episode of the BBC's investigative programme, "Panorama", which has been shelved amidst allegations that Matthew Chapman, the producer of the show, attempted to bribe a Harlequin employee.
Chapman was suspended and later resigned from the BBC amidst the allegations.