Businessman Leon "Bigger Biggs" Samuel says he has not refused outright to meet with a Government official who can advise Cabinet to reinstate his licence to mine aggregates at Rabacca Dry River.
Prime Minister Dr. Ralph Gonsalves told Parliament today (Thursday) that his Government has concluded that mining can recommence in the area but Samuel has refused to meet with the Chief Engineer, Brent Bailey, to discuss the terms.
Samuel however told I-Witness News that what he has refused is further one-on-one meetings with Bailey.
The Government in February 2011 revoked Samuel's licence, citing environmental impact and violation of the terms of the agreement.
Samuel said the revocation brought to a halt his EC$7 million block-making and trucking businesses, which employed between 45 and 60 persons.
He has been staging one-man protests against the Government and has told I-Witness News that he does not want to go to court because doing will be costly, time-consuming and will affect the possibility of resolving the matter through negotiation.
"I never refused to see [the Chief Technical Officer in the Ministry of Planning, Anthony] Bowman but I refused from meeting with Brent alone," Samuel told I-Witness News outside Parliament today, where he staged another one-man protest.
(Samuel was arrest briefly today, reportedly for protesting on the "wrong side" of the street outside Parliament. See Video)
"I said to the Prime Minister that I want to meet Brent, Mr. Bowman and he, the Prime Minister, himself, because … every time I see Brent by himself, Brent always tells me he is waiting on word from the Prime Minister.
"Whenever I meet the Prime Minister or calls the Prime Minister by himself, the Prime Minister is telling me he is waiting on word from Brent.
"So, the best how I believe all of this could be resolved is to get all of us together — not for him (Gonsalves) to be part of the technical (discussion) but we can get it out on the table then and there," Samuel told I-Witness News.
"I always keep getting the run around," he further said, adding that he had met with Bailey "several times, even at his home.
"… Every time I get to his office, I never get to meet him in his office. The only time I can get to Brent is to meet him before he leaves home in the morning — basically trap him at home. Brent tries to do everything to avoid meeting with me.
"So, he told me to go and see Mr. Bowman, I went, Mr. Bowman said he is not going to touch the issue without Brent because Brent is the one who has the power to do whatever needs to be done…
"… Mr. Bowman himself said he has tried to convene a meeting with him (Bailey) but he is futile in doing so."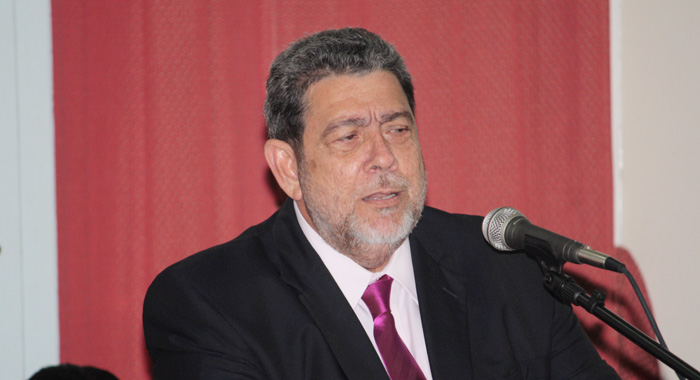 Meanwhile, Gonsalves told Parliament today that he had called opposition lawmaker and Northern Grenadines Representative, Dr. Godwin Friday, to witness a conversation between him and Samuel.
He told Parliament that the decision to revoke Samuel's licence was based on the advice of Bailey and Bowman.
"Time has passed, I have spoken on several occasions, including face-to-face meetings, with Mr. Samuel, several telephone conversations, I had the Chief Engineer, and the Chief Technical Officer at Planning, who are all friends of Mr. Samuel in Marriaqua.
"They provided a technical report to me and I saw on the basis of the technical report it is possible for mining to resume but has to resume under certain specific conditions.
"I asked Mr. Samuel to speak with Mr. Bailey and he said he wasn't going to speak to Mr. bailey. I implored him please to do so as I said in front of him with the Honourable Member for the Northern Grenadines.
"He said he wants me to be present. It is not a political issue. Work it out with the technical people as to the conditions," the Prime Minister said.
"I want to see the people who are unemployed who worked with Mr. Samuel to have jobs. I want to see him make a further contribution to the construction industry but we have to have the mining done in accordance with the specifications of the technical people.
"I say to the people of this country, I have absolutely no malice in my heart, political or otherwise, for anybody, and certainly not for Mr. Samuel, and I want everyone to understand this.
"The country is too small for us to have these kinds of fictions continue. And please, the whole country can hear that I am saying this: he must go to Mr. Bailey and to Mr. Bowman. Mr. Bailey is the Chief Engineer. He is the authority under the law to sort these things out, not the Prime Minister. "And they having been sorted out with him, I will then be informed and then whatever statutory rule of order to be made with whatever condition, I will then have it made in the Cabinet and that is what I have been asking, and that is the truth, so help me God," Gonsalves told Parliament.