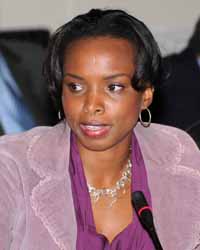 One of this country's female diplomats has praised Prime Minister Dr. Ralph Gonsalves for the opportunity given to women in the foreign service.
Ambassador La Celia Prince, this country's envoy to the United States, said Saturday that she is happy to be joined by another female ambassador, Inga Rhonda King, this country's U.N. envoy, who took up office this month.
"… I wish you a very successful tenure and you can rest assured that you will have my support in anyway I can assist you," Prince told King at the annual town hall meeting with Prime Minister Dr. Ralph Gonsalves in New York.
"On that note, I would also like, really on behalf of the women of St. Vincent and the Grenadines, to thank you Prime Minister Gonsalves for making women the core, putting women front and centre, making us a vital part of nation-building," Prince further said.
"It speaks volumes, I think, when a country and a government has as their representative for two very important diplomatic posts that have high visibility and profile, two women. And so, I congratulate you Prime Minister and thank you also for giving us that opportunity," she further said.
Prince said that in Washington DC, since Hillary Clinton became the U.S. Secretary of State in 2009, more countries began appointing female ambassadors.
"And it was called the Hillary Effect, and there are many forums, women ambassador forums in which they ask female ambassadors how does it feel to be a female ambassador of your country. And I have always been proud to say that we didn't have to wait until the Hillary Effect.
"This is something we have been doing from since the first administration in 2001 with Ambassador [Margaret] Ferrari," she said of the Unity Labour Party administration, which Gonsalves heads.
"In fact, I can go further and say we have gone past that first step, we are on to the second step, which is to make young people the centre of nation building," Prince said.
Ambassador King replaced Camillo Gonsalves, son of Prime Minister Gonsalves.