WASHINGTON, DC, Oct. 22 — The leadership of St. Vincent and the Grenadines' (SVG) Prime Minister, Dr. Ralph Gonsalves on the issue of reparations is already garnering attention from some high profile members of the civil rights and activist community.
The Prime Minister's feature address to the Institute of the Black World 21st Century — fittingly held in a hall named for Frederick Douglass, one of America's greatest Black leaders in the abolition movement — was attended by prominent activist and Director of Cultural Studies at the Centre for Folklife, Smithsonian Institution, Washington, James C. Early.
In congratulating the Prime Minister on his address, Early signalled his interest in bringing in some of his strategic partners to work with the government of SVG on matters pertaining to Afro-descendants. This resulted in an early Monday morning visit to the Vincentian Embassy by Early, accompanied by renowned activist, actor and diplomat, Danny Glover, of Hollywood fame. Both gentlemen were received for a meeting with SVG's Ambassador to the United States, La Celia A. Prince. Also attending the meeting was deputy chief of mission, Omari Williams.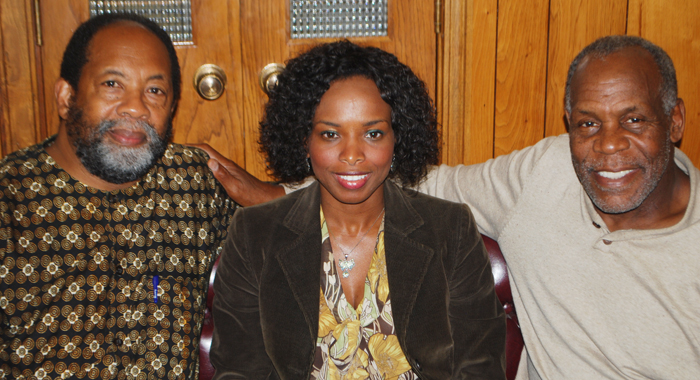 Glover, a United Nations Goodwill Ambassador from 1998-2004, discussed his longstanding work with people such as the legendary actor and humanitarian Harry Belafonte. He serves on the board of the TransAfrica Forum, an organization initially financed by Belafonte in quest of human rights, democracy and equality for people of African-descent. Trans-Africa was in the forefront in initiating efforts geared at lobbying the United States government and U.S. corporations to stand up against the oppressive apartheid regime in South Africa.
Both Early and Glover indicated their close affiliation and collaboration with leaders in the western hemisphere such as the late President Hugo Chavez of Venezuela and his successor Nicolás Maduro; former Cuban president Fidel Castro; Rafael Correra of Ecuador and José Mujica of Uruguay.
In following the activities of geo-political bodies such as the Caribbean Community (CARICOM), the Bolivarian Alliance for the Americas (ALBA) and the Community of Latin American and Caribbean States (CELAC), their objective is to bring awareness to the plight of discrimination and marginalization of Afro-descendants, particularly in Latin America, and galvanize political corrective measures that curb racial discrimination.
The eminent activists have their sights set on inspiring the creation of a parliamentary forum for Afro-descendants in the Latin America and Caribbean region.
While acknowledging that their work has not focused on reparations for slavery, Early and Glover indicated that they readily see room for their collaboration with the government of SVG on dealing broadly with many of the fundamental problems that confront Afro-descendants. They affirmed the view that the matter of reparations has advanced beyond just a philosophy, recalling that the 2011 United Nations Conference on Racism, which they both attended, also addressed the issue of reparations.
Ambassador Prince assured both gentlemen that in Gonsalves, they will find a kindred spirit, and a brother in political and social ideology. In response to their stated interest in travelling to SVG, she indicated that the Prime Minister's chairmanship of CARICOM from January-June 2014 could be an opportune time in which to advance their partnership with the government. She also noted that with Early's background in cultural studies and folklife, a visit to SVG should also explore collaboration on matters pertaining to the native Garifuna peoples of SVG, their expulsion from the country, and the government's thrust for a renaissance and re-owing of the Garifuna culture in our country.
(Embassy of St. Vincent and the Grenadines to the United States of America)