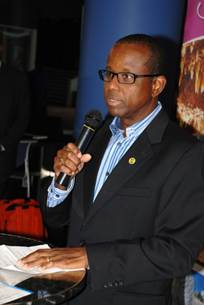 FORT-DE-FRANCE, Martinique — The regional umbrella Caribbean Tourism Organization (CTO) has expressed its support of regional airline LIAT as the commuter carrier continues its complicated fleet renewal.
Speaking to reporters in Martinique during the recent CTO State of the Industry Conference, Secretary General Hugh Riley paid tribute to LIAT for exercising creativity and innovation in moving people throughout the region.
"In terms of helping to move people around the region we owe a debt of gratitude and thanks to LIAT," Riley said.
"It's not every day that Martinique has 300 people descending on this pretty island. How do we all get out when we want to? LIAT stepped up and helped us tremendously by doing some fairly creative things," he added, thanking the airline, in spite of the challenges, for putting on extra flights to get everyone home.
Riley also reported the carrier, which is on its way to transitioning from the aging Dash-8 aircraft to new ATR planes, has played a supportive role in the work of CTO's new Aviation Task Force which was convened by its chairman Beverly Nicholson-Doty of the US Virgin Islands.
"The collaborative effort between the ATF (Aviation Task Force) and those (who) serve the aviation industry around the Caribbean (has been strong), and LIAT has really stepped up and helped us with that," Riley said.
He added that LIAT has also been solidly behind the power of the Caribbean brand and the concept of actively promoting the region as "One Caribbean".
CTO's Aviation Task Force has made detailed presentations to regional policy makers, aviation personnel and has given technical input to the revision of the CARICOM Multilateral Air Services Agreement.
Hugh Riley of the Caribbean Tourism Organization