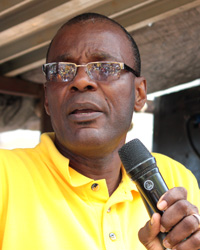 MP for West Kingstown, Daniel Cummings, has described as "the lowest level of journalism that I have ever seen" an article in Searchlight newspaper on Nov. 22 for which the paper apologised one week later.
Cummings, speaking on radio on Wednesday, said the article, which reported on the demolition of a house in Kingstown Park, contained "absolute untruths".
Searchlight said in its apology that contrary to its news report, it has no evidence that Cummings had sent persons to demolish the house or was a party to a court proceeding relating to the said house.
He said the Searchlight report was "an article, which focused on me primarily because I am a person in the public light, and, I believe, because that sells paper.
"And in my mind, that is the lowest level of journalism that I have ever seen," Cummings further said.
"I simply want to say for the record that the article referred to in the apology has taken the truth and turned it absolutely on its head. I have nothing to do with the court case referred to. I am not a party to the case. The injunction referred to was against one of my sisters and one of my brothers," Cummings further said.
He said that while he is the administrator of his late father's estate, "Of the information I have from legal and professional sources, my work in that area concluded in 2003 and I am absolutely certain that all of the beneficiaries agreed absolutely to the terms of the sharing of my late father's property.
"I gained absolutely nothing from it, and I am very proud of the decisions taken among us in the manner in which the property was distributed."