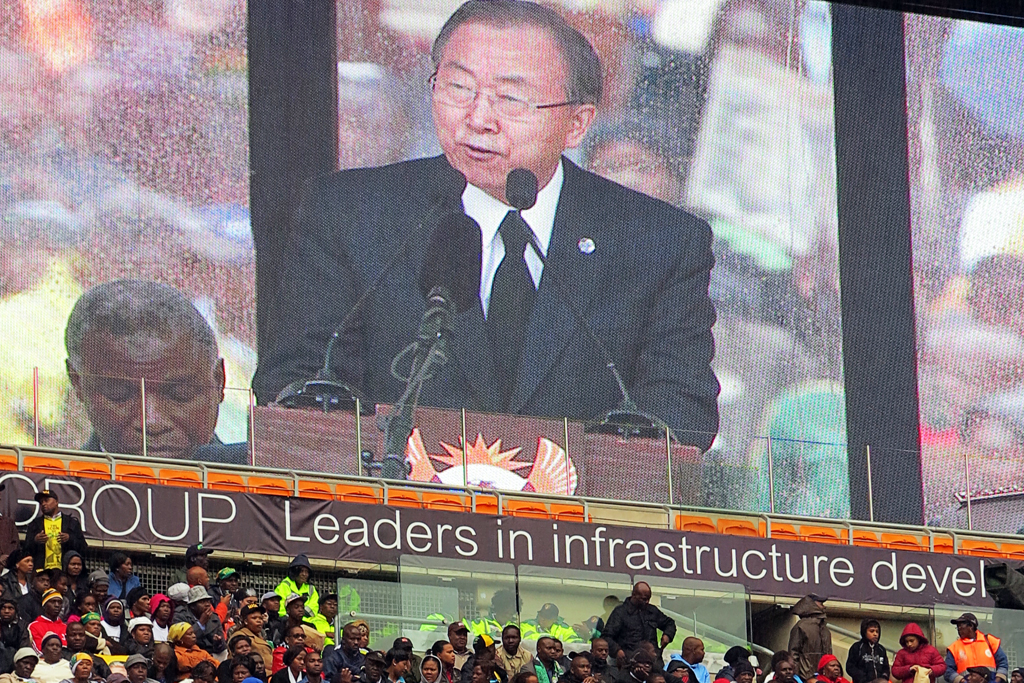 UN Secretary-General Ban Ki-moon on Tuesday paid tribute to the late Nelson Mandela, telling the tens of thousands gathered at the memorial service in Johannesburg that the life and legacy of the former South African president was an inspiration not only for his countrybut for the world.
"This grandest of all baobab trees left deep roots that reach across the planet," Ban said, addressing a rain-soaked crowd at the soccer stadium that hosted the opening and closing ceremonies for the 2010 World Cup.
Mandela passed away last Thursday at the age of 95.
Affectionately known as "Madiba," the late human rights lawyer, prisoner of conscience and Nobel Peace Prize winner was the first democratically-elected president of post-apartheid South Africa.
"Nelson Mandela was more than one of the greatest leaders of our time. He was one of the greatest teachers. And he taught by example. He sacrificed so much and was willing to give up everything — for freedom and equality, for democracy and justice," Ban said.
"His compassion stands out most. He was angry at injustice, not at individuals. He hated hatred, not the people caught in its grip. He showed the awesome power of forgiveness — and of connecting people with each other and with the true meaning of peace. That was his unique gift — and that was the lesson he shared with all humankind."
The Secretary-General, who was among nearly 100 world leaders attending the service, said that South Africa's democratic transformation was a victory by and for South Africans.
"But it was also a triumph for the ideals of the United Nations — and for anyone, anywhere, who has ever faced the poison of prejudice," he added.
"The United Nations stood side by side with Nelson Mandela and the people of South Africa in the fight against apartheid. We used every tool we had: sanctions, an arms embargo, a sports boycott, diplomatic isolation. We spoke up loud and clear across the world.
"Apartheid was vanquished," Ban said. "But as he would be the first to say, our struggle continues — against inequality and intolerance, and for prosperity and peace.
"Nelson Mandela showed us the way with a heart larger than this stadium and an infectious smile that could easily power its lights. In fact, it lit up the world…
"It is the duty of all of us who loved him to keep his memory alive in our hearts, and to embody his example in our lives." (UN News)