Nikala Williams, corporate communications and marketing lead at LIME says that with the company's "Give A Gift This Christmas" initiative a dollar can go a long way.
Donating as little as a dollar, can go towards the purchase of a gift for an orphan or less fortunate child this Christmas.
Williams said that last year, contributions from internal and external donors enabled LIME to provide more than 250 gifts to orphans and hospitalized children at the Milton Cato Memorial Hospital, St. Benedict's Orphanage in Georgetown, the Community Nurses Department and the Prison fellowship of St. Vincent and the Grenadines.
Williams and the rest of LIME hope that this year more children would be reached by the drive and would put smiles on their faces.
The children are not the only ones to benefit from this initiative, Williams pointed out.
She noted that daily from Monday to Friday, five persons who supported the venture will win a ham or turkey, as a means of encouraging donations.
She urged all customers to be a part of the initiative by giving as little as a dollar, and in doing so, bringing cheer to less fortunate children, and earning a reward in the process.
"Don't take your pocket change out the door, leave it for the poor," Williams said.
First 25 winners in LIME Christmas promotion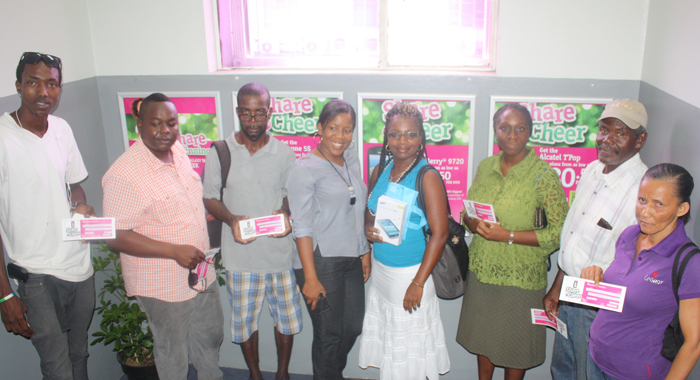 The first batch of lucky LIME customers to be rewarded in the 2013 Share the Cheer Christmas campaign received their prizes last week.
Ten loyal customers received Samsung Galaxy Tablets, while 15 others were given hams, for topping up 15 dollars or more or paying their LIME bills in full and on time.
It was the fist time that most of the individuals were being rewarded for their loyalty.
A total of 60 Samsung Galaxy Tablets, 75 hams and other surprises are up for grabs during the promotion, which ends Dec. 31.
 Family Sundays at LIME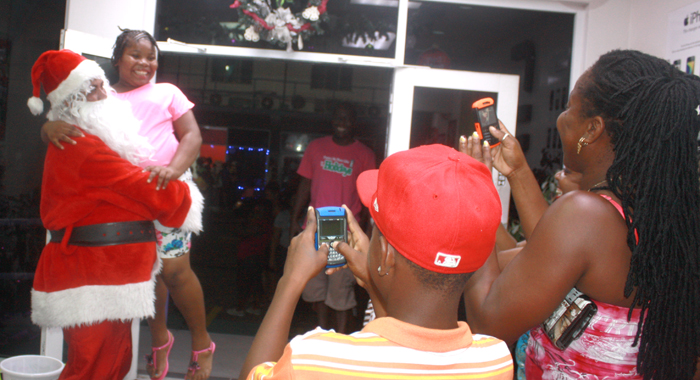 Telecommunications provider LIME is keeping the family tradition in Christmas, with a series of activities on the promenade outside its Kingstown store on Sundays.
In addition to shopping for LIME's services, the company says its customers can also experience the joy of the season.
Every Sunday children have the chance to meet and have their photos taken with Santa Claus, and be treated to goodies inside the store.
On the outside, the kids can take part in a ring toss competition, while parents can be entertained by or engaged in live karaoke, where they can sing with the stars.
LIME Soca Dans, face painting, ham tasting and much more will be featured on the promenade this Sunday.
Patrons can expect to get the best deals on handset, as well as passes to LIME sponsored events like Soca Dans Kiddies Christmas and more.