Opposition Leader Arnhim Eustace has responded to Prime Minister Dr. Ralph Gonsalves' comments that Eustace disowned Opposition senator, Dr. Linton Lewis, during the debate of the Proceeds of Crime Bill last week.
"… I have never seen in our Parliament a spokesperson for any party on a bill, in this case, the opposition, where the Leader of the Opposition so utterly disowned his major spokesperson," Gonsalves said on radio last week Wednesday, one day after the Bill was passed in Parliament.
He was referring to Eustace having addressed Parliament during the debate — which he said he did not plan to do — then later voting "aye", even as Lewis, a lawyer, expressed concerns about a section of the Bill.
"Once again the Prime Minister is attempting to be his own political strategist, using now his interpretation of events during the Parliamentary Debate on the amendments to the Proceeds of Crime Bill, to … deflect from the serious concerns which were raised by Opposition Senator Dr. Linton Lewis about Civil Forfeiture contemplated in the amendments, … and provide his son [Sen. Camillo Gonsalves] with some political currency in East St. George ahead of 
General Elections where he wishes to unleash another Gonsalves on the public," Eustace said in a press release last week.
Read: Gonsalves says Eustace disowned Sen. Lewis during debate on Bill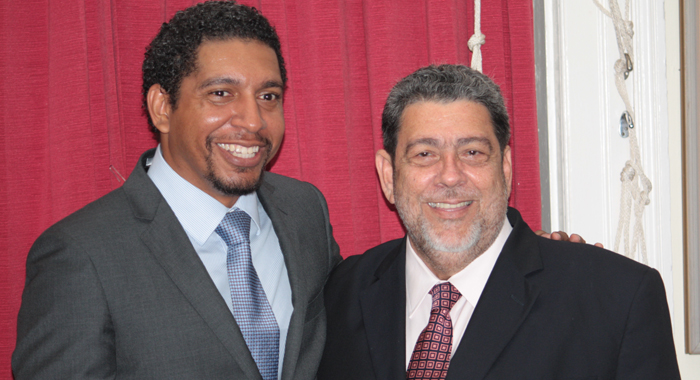 Eustace said that Lewis raised concerns about sections of the Bill, and they both conversed, even up to the time when the Prime Minister was seeking to respond to his queries.
"In light of the concerns he raised, I questioned him as to whether we should, on those bases, vote against the legislation. Dr. Lewis was clear, that the concerns were not enough for us to vote against the legislation. Therefore we supported the legislation," Eustace said.
"For the Prime Minister to try to politically spin that Lewis and I were on different sides of the issues, is sheer mischief, and wholly untrue. His efforts to condemn Sen. Lewis are intended to secure for his Son some much-needed attention in the Constituency of East St. George.
"We take his words to I-Witness News about political consequences to Lewis and slap down, to be geared towards promotion of his own issue, that being his son who we know is on the ground in the constituency, and facing his own baptism of fire with the people of the constituency," Eustace said in a release.
PM Gonsalves' statements were made on radio and reported on I-Witness News and were not made to I-Witness News directly.
It is being speculated in some circles that Sen. Gonsalves, who is also Minister of Foreign Affairs, could replace Minister of Health and MP for East St. George, Clayton Burgin, as the ruling Unity Labour Party's candidate in that constituency for the next general elections, constitutionally due in 2015.
"If Gonsalves wants to promote his son, let him go on the ground in East St. George with his son, and introduce him as a saviour being delivered to them by his Father," Eustace said in the release.
"We took the decision, notwithstanding the concerns Dr. Lewis raised, to support the legislation, and that decision must stand. Gonsalves is playing politics, for the sake of his son, who has interest in East St. George. We are not fooled by it, and the people are not fooled by it," Eustace further said.