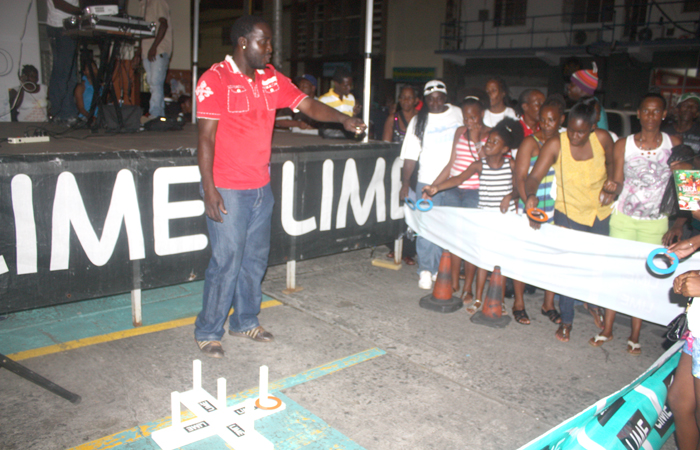 The LIME Sunday shopping experience comes alive again this Sunday, the final shopping weekend before Christmas.
Last Sunday, hundreds of persons packed the telecommunications provider's main location in Kingstown, and were able to take advantage of the many deals and treats on the inside and outside.
Shoppers were able to make use of the Share the Cheer promotions currently taking place at LIME, where they purchased smartphones with huge up to 75 per cent savings. Some persons walked away with android handsets for only $99 and received free gifts.
Other customers were entered in the weekly draws for Samsung Galaxy Tabs or hams, just by topping up their handsets with $15 or more, or paying off their bills in full and on time.
Shoppers also took time out to sample various goodies.
Chicken ham, produced and prepared by Aletha Garraway and Carlton Ottley were available for tasting and sale, and the highly anticipated Quantum broadband package was also sampled by customers, who wanted to experience the super speed broadband service.
Customers also put themselves in a position to win hams from LIME by giving a dollar in the Give A Gift campaign, where orphans and less fortunate children would be presented with a gift for Christmas.
At the entrance of the store, Santa Claus was on hand to greet the children and shower them with goodies and gifts, and take photos.
On the outside, the promenade was a buzz of activity, as young and old participated in outdoor games, like the ring toss and tried their voices in the karaoke show.
LIME Corporate Sales and Marketing Lead, Nikala Williams pointed out that the Sunday shopping experience at LIME is not only about giving the most and best deals on the landline, broadband and mobile services, but it also gives families a chance to take time out from the hustle and bustle of Christmas to have fun, and give to others in the process.