Opposition Leader Arnhim Eustace spoke of the "human suffering," and "anguish" he witnessed on Thursday as the recovery began in communities devastated by floods Tuesday night.
The New Democratic Party (NDP), which Eustace heads, said in a release on Thursday, that Eustace, MP for East Kingstown, seemed lost for words, and was moved to tears as he toured Cane Grove, Buccament Bay, and Vermont.
One person died in Vermont, another in Cane Grove, while at least four are missing between Cane Grove and neighbouring Buccament Bay as a result of the extreme weather, which also claimed five lives in Rose Bank and one in Byera.
The NDP said that Eustace recounted his experience on radio after a six-hour visit to the Central and South Leeward communities.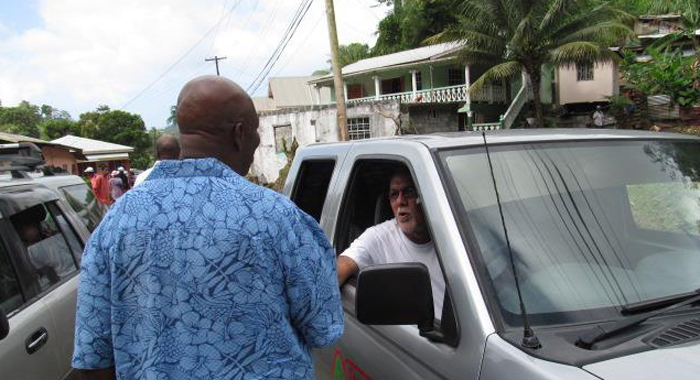 Eustace lamented the "human suffering," and "anguish" he witnessed as persons were busy clearing debris, and consoling each other after a freak storm caused rivers to overrun their banks, resulting in loss of life and property over what should have been the most "wonderful" time of the year- Christmas day, the NDP said.
"The President and Leader of the Opposition extended personal condolences to those persons who lost loved ones, seeing one gentleman who described in brutal detail losing hold of his girlfriend's hand as the river took them under a bridge in Buccament.
"The obviously distraught man was taken from the Buccament Secondary School to the Milton Cato Memorial Hospital for medical attention. He (Eustace) also spoke with a mother who lost her last eighteen-year-old daughter and two-year-old grandchild, describing her strength as she sought to encourage her own neighbours in their communal clean-up effort, as 'remarkable'," the NDP further said.
Eustace, who was joined on his tour by Area Representative for South Leeward, Nigel Stephenson, candidate for the NDP in Central Leeward, Ben Exeter, MP for West Kingstown, Daniel Cummings, and NDP public relations officer, Sen. Vynnette Frederick, will tour North Leeward later this week and over the weekend, as soon as roads are formally opened, the NDP said.
"NDP's constituency representatives and custodians have been out and about traversing the damaged countryside giving hope to a despairing nation and its people at this time," the party said.