Leader of the Opposition, Arnhim Eustace, will today, Tuesday, respond to what Prime Minister Ralph Gonsalves has described as "an interim budget", which has to be supplemented within four to six weeks.
On Dec. 9, Parliament approved estimates of Income and Expenditure for 2014, which amounted to EC$911 million.
However, Gonsalves, who is also Minister of Finance, said in his Budget Address on Monday that the Christmas Eve floods have "altered profoundly the immediate socio-economic context of the 2014 Budget".
"The upshot of this is that the 2014 Estimates which were approved in December 2013, and upon which the 2014 Appropriation Bill is based, has to be supplemented with the next four to six weeks or thereabout," he told lawmakers.
He, however, said that while the Budget is interim in nature, "This does not mean it is provisional or temporising on fact or law.
"This Budget is aimed at strengthening our socio-economic base for recovery and reconstruction after a natural disaster in a context of on-going global economic uncertainty and downside risks," Gonsalves told Parliament.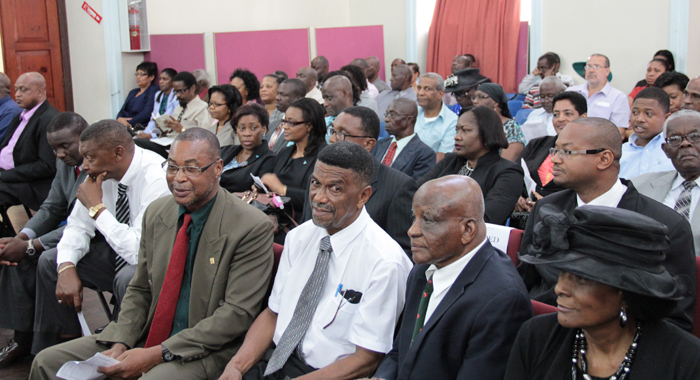 He said that the supplementary estimates and appropriations bill to be brought before Parliament will contain "both altered and additional provisions to reflect the profoundly changed circumstances of our country.
"Alterations and additions are to be expected on both the recurrent and capital sides of the approved Estimates," Gonsalves said.
He said that preliminary estimates from the natural disaster, which left nine persons dead and three missing, tells "a horrendous story" as far as loss and damage to infrastructure and agriculture is concerned.
The aggregate cost of the damage and loss is estimated, preliminarily, at EC$330 million, or over 17 per cent of gross domestic product, according to Government figures.
The World Bank has estimated the damage and loss at EC$291.4 million or 15 per cent of GDP.
Gonsalves, however, said that the World Bank's figure underestimates the damage to agriculture by nearly EC$5 million and does not include damage assessment to the forest.
He told lawmakers that the Food and Agricultural Organisation estimates the damage and loss to the agricultural sector at EC$8.4 million, and to forestry at EC$24 million.
"It is a monumental blow to our society and economy; damage of between 15 and 17 per cent of GDP is huge and devastating," Gonsalves said.
Gonsalves also disaggregated the figure, saying that material damage to 662 houses is estimates at EC$24.6 million. Assuming that 300 houses are to be relocated, this will cost the Government EC$45 million.
The clean up cost so far is EC$5 million, while damage to the Milton Cato Memorial Hospital, the nation's main healthcare facility, is EC$5.5 million.
The state-owned water and power companies — Central Water and Sewerage Authority and VINLEC –suffered damage amounting to EC$13 million and EC$23 million, respectively, while private sector businesses outside of agriculture lost EC$ 5 million.
The agricultural sector registered damage and loss of EC$8.4 million and over 1,100 farmers were affected.
Damage and loss to the physical infrastructure, namely roads, bridges, river defences and two police stations, amounted to EC$221.1 million, while damage to the forest was totalled EC$24 million.
The estimated cost of damage to household items was EC$7 million, while the cost of providing humanitarian support to affected families for six months was EC$2.4 million.
Gonsalves said it is unlikely that capital projects for which funding has already been specifically sourced and which are ready for imminent implementation would be shelved.
"However, the scope of some existing capital projects is likely to be altered and additional allocations made," he said.
He said that capital projects of an urgent and critical nature not now present in the approved Estimates for 2014 would be included in the Supplementary Estimates.
"Clearly, there would be a reshaping of budgetary priorities in accordance with the requisites of addressing effectively the extant humanitarian challenge arising from the natural disaster and of implementing in a focused way the grand project of rehabilitation and recovery under the rubric Arise SVG with the six Rs: Relief, Reconstruction, Roads, (including bridges), River Defences, Reforestation, and Relocation (including housing)," Gonsalves said.