Thirty-year calypso veteran Alexis "Lexie" Joseph competed in a calypso competition on Saturday for the first time since his left leg was amputated two years ago because of diabetes-related complications.
Saturday's competition was also his first since 2010.
"That wasn't no decision; I ain't looking at it as a decision," he told I-Witness News when asked about his "decision" to return to the stage.
"It is just a continuation of what I was doing," the 57-year-old artiste of "Ease Up Fisherman" fame told I-Witness News on the sidelines of the Best New Song competition at Solidarity Car Park in Kingstown on Saturday.
"I needed some time to heal, and I think I heal sufficiently now so I can go back on the stage.
"It didn't take much out of me. I just have the desire to write and sing; so I just continue what I've been doing," he further said.
Interesting trivia:

Lexie began singing calypso in 1984. He made it to the finals that same year with his songs "Survival" ("Hold on Brother Man") and "Sores of Emancipation")
In 1986, the sang the popular double entendre "Ease Up Fisherman", and won the St. George's competition that year.
He won the extempo competition in 1991, 1992, 1994, and 2001.
In the months leading up to the amputation, Lexie had travelled overseas and return to SVG with an infection.
Local healthcare professionals explained to him that dealing with that infection would have consequences for the leg," he told I-Witness News.
He said that after an operation, the leg started turning black, began to get very cold, and was very painful.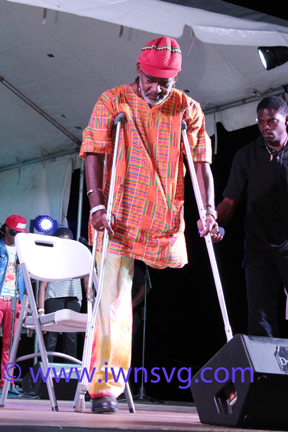 "I was actually calling on them to come and cut off the foot because I couldn't bare the pain – because the foot was already dead," Lexie told I-Witness News.
Vivian "I-Come" Miller won the calypso segment of the competition with his song "Body Parts", a composition about what he portrayed as an amputation epidemic in St. Vincent and the Grenadines.
Lexie said that the number of amputations in SVG "is something that is being spoken about quite often within recent times.
"So I am not surprised that a calypsonian will song about that issue.
"Vincentians talks about it, but sometimes, believe it or not, if you ain't cut off that piece of foot, it could kill you," he said, adding that a healthcare professional told him that had he not had the amputation, he would have died within two weeks because of poor circulation in the leg.
"So, I have to say thank God, I am still alive and enjoying life," he said.
Lexie's calypso was a compilation of Vincentian proverbs and sayings that contain animal references.
"… It really wasn't an attempt to explain to people what these saying mean. It was just to compose a calypso with all of them and see how people would respond and appreciate," he told I-Witness News.
As to the response at the competition, Lexie told I-Witness News, "I wouldn't say cold, but at the same time, I wouldn't say warm.
"They (patrons) just stand up. I don't know if it's the first time they seeing a one-foot man on the stage singing, but everybody just watching and waiting and see how he go come down," he said of the generally stiff crowd at Saturday's competition.
"I think in the end, the response was OK, but I wouldn't say a big set of noise, because I know in the past I have had better responses after certain performances," Lexie told I-Witness News.
But he acknowledged that some of his fans were probably surprised to see he had lost a leg.
"A lot of people really ain't know; because even sometime I come out and go in a supermarket and people see me, they say, 'But Lexi, when that happen? I never heard that," he said, noting that it has been almost two years since the amputation.
Lexie said he has other songs prepared and is working on a ragga soca song that he will release in the next two weeks, and has another song, should he make it to the finals of the National Calypso Monarch Competition.
Of his life after the amputation, Lexie said: "I really don't have any problem. I am getting by quite OK for the time being.
"I done condition my mind to live with it. And whatever I can do, I just do. There are certain things I can't do because I have one leg, but those are minimal. I am still enjoying life."