St. Vincent Brewery Ltd. on Tuesday honoured a commitment it made after the December 2014 floods and landslides, and donated EC$50,000 in equipment to the Milton Cato Memorial Hospital.
"I am pleased to confirm today that the St. Vincent Brewery Ltd. hereby fulfils its pledge to support the relief efforts. The floods affected many areas where employees, family, friends and customers of the St. Vincent Brewery live and work," Shafia London, commercial manager of the Brewery said at the handing over ceremony in Kingstown.
London said that in the immediate aftermath of the disaster, which claimed nine lives and left extensive damage to houses and public infrastructure, the Brewery    distributed water to many communities when it was most needed.
"Today, the St. Vincent Brewery contributes over EC$50,000 in hospital equipment. The health and safety of our Vincentian people remains our number one concern and so we decided to lend direct support to this particular sector," she said.
"Our donation took much longer than we anticipated due to sourcing and logistic challenges but as the old saying goes 'better late than never'.  At the end of the day, our General hospital and other health clinics were badly damaged and still remain in need of medical supplies and equipment," she said.
"We thank the people of St. Vincent and the Grenadines for their continued support of all of our brands namely Hairoun, Guinness, Presidente and Vita malt and most recently Budweiser and Corona. We are known and loved for having exciting promotions where we give back to our consumers. But there is no better way of saying thank you and of giving back than to give in a time of need and to give where the impact will be felt. St. Vincent Brewery remains committed to the development of St. Vincent and the Grenadines and we ask for the continued support so that we in turn can continue to contribute to our nation," she said.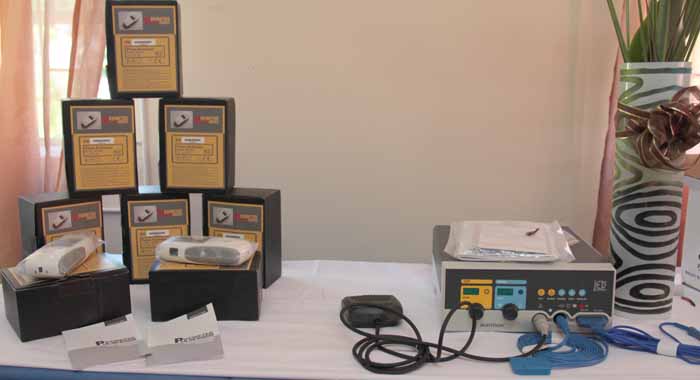 London said the donation to the   Milton Cato Memorial Hospital include one Huntleigh Daptone Fetal Monitor, one Diathermy Machine, three Easy Fold Wheeled Stretcher, three adult re-usable Spo2 Sensor with three meter cable, three Pulse Oximeter, two Plastic Splint Stretcher, two Allied Gomco Aspirator Model, one Life Line Emergency Cart, and GE Biliblanket plus Phototherapy System.
Meanwhile, Hospital Administrator of the MCMH, Grace Walters, said the hospital suffered major loss during the flood, and quite a number of local entrepreneurs and business places inquired about how they can assist.
"And we saw patriotism at its best," she said, adding that the Brewery pledged US$20,000 to the Ministry of Health.
"And today, we are the recipients of equipment and supplies that were purchased with this donation. We are very thankful for this donation and we just want to say how very appreciative we are to the St. Vincent Brewery Ltd.," Walters said.
Meanwhile, Minister of Health, Clayton Burgin, expressed appreciation for the donation, saying, "I want to acknowledge this tremendous contribution by the St. Vincent Brewery Ltd. This corporate body has aided us greatly with these equipment and other implements that they have provided to us for the care of our citizens."