By E. Glenford Prescott
Twenty-eight coaches, including six women, are participating in the second CONCACAF D license Coaching course at the National Sports Council conference room at Arnos Vale Playing Field.
The course, the second of its kind to be held here in six months, is a programme put together by CONCACAF to certify its coaches.
CONCACAF says the D license is the first official qualification for coaches in the region and further licenses will be developed by the CONCACAF Development Office.
Previously, coaches in the region had to travel to Europe or other confederations for education and recognised qualifications.
The D License training course, educates coaches in the principles of coaching, the adequate training by age, the fundamentals of planning training sessions, physical training, health and security, the development of community clubs, among other components of coaching football.
The Course is being facilitated by FIFA Instructor Lenny Lake long with coach Ces Pod.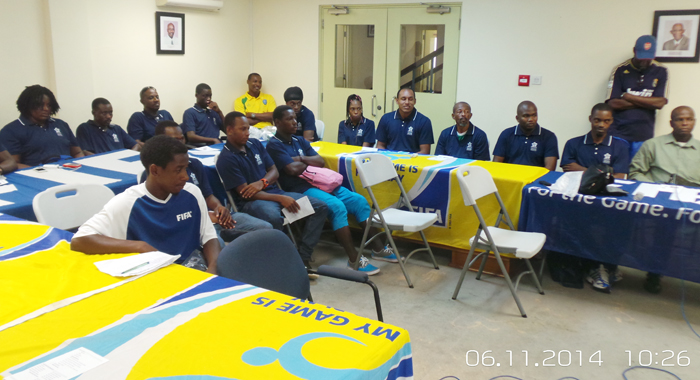 On Thursday, the opening heard short addresses from SVGFF President Venold Coombs and Instructor Lake who was one of the facilitators in the opening course.
Coombs outlined his administration's efforts in helping to improve and boost the game with the holding of such courses, conducting coaching programmes and the holding of tournaments.
"We came into office and looked at the areas where the game of football needed attention and followed through on the promise to improve the game and you have seen it and are seeing it today with the holding of this second D License Course," Coombs said.
"We have had a lot of courses over the last three year. In addition we have sent some of our coaches, including our Technical Director, 'Cornie' Huggins, to courses overseas to develop themselves, because we know that it is important to get coaches who are understand what their roles are."
Coombs said that the grassroots programme, the on field competitions at all ages included the women underlines his executive's commitment to development.
Lake, who was making his fourth visit here in the last 12 months, urged the participants to make the effort to retain what is being taught. He also warned them that the work will not be easy.
"We are going to have four days. I don't want to say it is going to be difficult but prefer to say that it is going to be a challenge. I am going to test your knowledge. I am going to test your physical ability, and I am going to test how genuine you are, if you really want to be here.
"It is a course where we give a License and it involves examination and I want you to know … that once you come here, you have to be serious because you are into something to build people's lives and the reason you are here is to make that start. You must be punctual, for that is the beginning of being a good coach".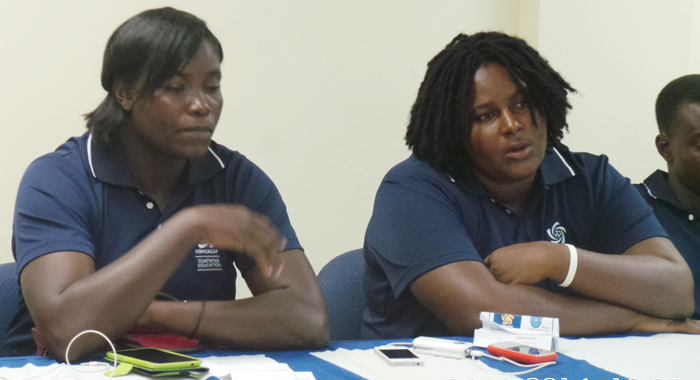 Lake outlined a number of things that they must do if they are to be successful coaches or coaches who want to play a part.
"You must be selfless and prepared to work sometimes long hours without the required reward. You must want to be there. You communicate knowing your challenges, your weaknesses and you must talk to the Federation about this. And last but not least, you must be community-focussed. Yes there would be challenges but a community that is in search of success knows how to rise above those challenges and you can do this by sitting down and talk and putting St. Vincent football as priority," he explained.
The initial course was held in May when CONCACAF President Jeffrey Webb, made his first visit to the island and opened the historic event. And it took place nine months after CONCACAF launched the coaching programme in Mexico.
The D License course was also be conducted in the Cayman Islands, Aruba and Grenada last year and the CONCACAF said it is committed to enabling its 41 member associations to take advantage of the programme, according to the CONCACAF website.
The May course had 42 coaches in attendance and was conducted by Lake, Ettienne Siliee and Jonathan Martinez.