The views expressed herein are those of the writer and do not represent the opinions or editorial position of I-Witness News. Opinion pieces can be submitted to [email protected].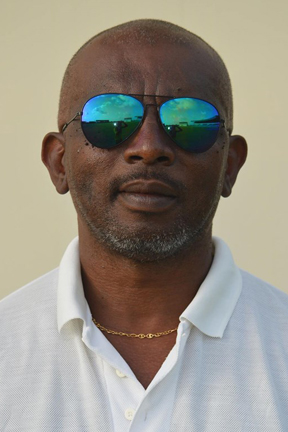 I read with some amazement parts of a response from former West Indies player and long-serving Windwards coach, Ian Allen, to an article I wrote in the VINCENTIAN newspaper March 13th, 2015 — the 36th anniversary of the Maurice Bishop-led Grenada Revolution — and I must say that based on the content and structure of the response, Mr. Allen must have gone through a tremendous "literary revolution" to have put this together. I say this based on what of I know of his capabilities and his capacity to join sentences to create the best effect and impact — my opinion sadly is not that high.
But the article has been written and comes as no surprise, since I heard it was to be done, and on whose insistence.
Let me set the scene to give a snapshot of Ian Basil Allen, the coach of the senior Windwards team and a former SVG coach. He played for the Windwards, getting 15 wickets in a season, including 7 with a hat-trick in match against Trinidad. He was mystifyingly fast-tracked into the West Indies touring team to the UK in 1991 and the only thing notable about him on that tour was that Vivian Richards (now Sir Vivian Richards) caught Mark Ramprakash at slip to give him his first test wicket.
In a conversation about Ian Allen, Malcolm Marshall said this: "He showed little enthusiasm to train was always amongst the last, if not the last, to come to the team bus to go to the nets, and, for an international player, displayed limited knowledge about bowling." No wonder then he only played two test matches and ended his career with 5 wickets at 38 apiece.
It must be remembered that after his less than inspiring tour, Allen a few years later declared himself fit for a match in Jamaica for the Windwards, delivered one ball then left the field with a shoulder problem and was unable to take any further part in the game. That is, as a player.
And as a coach: a former manager of the senior SVG team declared publicly a few weeks ago "Ian Allen is the worst thing I ever came across as a coach."
The success of the Windwards team, sir, has nothing to do with you as coach, because, in spite of your coming second to last in the regional coaching exams, the team placed third in the regional competition.
In fact, in the marks in the exam, for Lesson Planning you got 21/50; for Micro Teaching, 41/50; Theory — which it is said is your strength — it was 62/100 and 25/40; Test One 40/100 and 8/20; Practical One 67.5/100 (the lowest); and Practical Two 27/40. You got 60 per cent and Irvin Warrican 88 per cent. So if the Windwards are depending on your coaching to do well…
There were only two teams at full strength all season this year: eventual champions Guyana and second placed Barbados.
You lost three matches outright to them and a first innings points and just narrowly missed losing all four matches.
And when Jamaica had its strongest team, you lost outright. You said in your opening (well I have to say your to avoid confusion), "The team I coached", but, no sir, it should have been "The team, of which I am coach, …" since the above-listed marks point more to that.
Reading your response almost gave me a blackout since the architect of the article has displayed a lack of appreciation of Windwards cricket, and, therefore, in an effort to mask this is providing explanation to matters which I never even touched. Sigh.
The Windwards team that goes on the field, that is, the FINAL ELEVEN, is selected by coach Ian Allen! Please deny this.
This being so, Ian Allen has the power to determine who is not selected or selected. So that when Kenroy Peters was left out on his arrival from South Africa, it was Allen the coach who made that decision. When Miles Bascombe was sent home from Barbados after topscoring in a regional T20 match, the decision was made solely by Ian Allen. Challenge me! You also have the power to suggest which player to call or not to, as happened when Sunil Ambris was not given his chance two years ago.
Your explanation about the captaincy clearly shows the chronic lack of understanding of your penman and your dishonesty. Where it is said that a contracted player cannot be the captain of the team? If that is the case then an individual who gets 8/20 for a practical cannot be the coach! Mr. Currency, you must let people know, refused a contract. And with regards to the two individuals you mentioned, Devon Smith has indicated from early he is not interested in captaincy and as to Shane Shillingford — less said is better and you know why. An earthworm is like a giant to you. You honestly sick my stomach.
What bias do I have against you, whose only claim to fame is being a coach who cannot even pass a test and using obscene language on a senior official? It really baffles me how one of such based coaching standard can be appointed every year as a coach of a first class team when Warrican, Alton Crafton and Phernix Thomas have shown more appreciation and understanding of the finer points of the job. Over the years the Windwards' success has been built on the bat of Devon Smith and the elbow of Shane Shillingford, not anything that you do.
I am trying desperately, Ian Allen, not to create problems in the Windwards camp but since you will have to apply for the job next year as against sitting down and being appointed by those weaklings, I will reveal the "true you" to the cricket public here over time. People do not know you, but because of the privileged position in which I find myself, I have to hold my peace — but it wouldn't be long now.
Since my article, the public's awareness of your treatment of Vincentian players have been raised and it was this why Director of Sport Nelson Hillocks sought to question your treatment of local players. Mr. Allen, I was told of this and your response to Mr. Hillocks who, incidentally, is a Board member of the institution at which you receive your full salary while out with the Windwards making money. I went to confirm what I heard and was told that you used obscene language on him twice. Your comment to him on when you were told that "the Nation is disappointed in your treatment of Vincentian players was, "F… the Nation. I say f… the Nation". A Nation that has given you a piece of land despite you having a mediocre test career!
Your ingratitude is well known though, as when stricken by leptospirosis my cousin Venold Coombs initiated your travel overseas while you were in a wheel chair and yet you turned around and has set out to deal with him in the manner you now do. Sigh.
It also hurts Venold when two of his players, Miles Bascombe and Donwell Hector, are omitted from a Windwards squad based on a phantom report which points to you highlighting negative things. You are nasty. No one wants it to be all Vincentians selected. What we ask of you is to stop smothering them with your minute and bitter mind.
And you speak about having a better relationship with Hector and other young players and giving the impression that my influence is negative. Boy yu nu boy…
Which young player you have a relationship with outside of them being afraid to do a "Nelson Hillocks exchange" on you because of a Windwards place? I invite people to come to the Arnos Vale Playing Field to see you in seclusion as no one entertains you.
I have nothing against you. I have written about you as a cricketer. I was the only journalist at the airport when you left for the tour of England. Your voice and your comments were regularly heard or read on CMC as coach over the years. While you were at SVGTV, I took it upon myself you assist you in many ways. You categorise my criticism and writing as being full of venom and I detect a sense of helpless bitterness desperately searching for familiar habitat.
I have responded because scores of people felt that I should and do so quickly other than that I would not have done so now. But when you meet "ground puppies" and "creepers" you have to defend against them and I chose to go this low to protect my wicket.
I will take no prisoners!
E. Glenford Prescott