Leader of the Opposition Arnhim Eustace says he is "deeply concerned about a lot of the things to do with the electoral process".
Among these, he mentioned the growth of the voters list in some constituencies since the December 2010 last general elections.
"… the next time I am here, I am going to bring a list of the additional voters in each constituency, compared to the last election. And I will mention two here: the list in East Kingstown for the 2015 election has grown by 595 persons," Eustace, who has been representing that constituency since 1998, told listeners to his weekly radio programme on Monday.
"And I know there are a number of constituencies [where] over 600 has been added to the list. And I want to say I took particular note of the fact that in South Leeward those added to the list exceed 800 … I am still looking at these numbers and trying to find these people. I suspect something may not be too right in some of these figures," Eustace said.
Both the ruling Unity Labour Party (ULP) and the main opposition New Democratic Party (NDP), which Eustace heads, and the Supervisor of Elections, Sylvia Findlay-Scrubb have discussed a proposal to remove then re-register persons from the list.
Findlay-Scrubb has proposed that the names of those persons who registered as voters before Jan. 1 2014 and who have not updated their registration over the 10-year intervening period be deleted from the voters list that was due to be published on Oct. 14, 2014 or the voters list that was to be published by the Jan. 15, 2015.
Related:
Eustace, speaking on his weekly radio programme on Monday, said that Prime Minister Ralph Gonsalves would have brought to Parliament today, an amendment of the Representation of the People Act, to effect that agreement.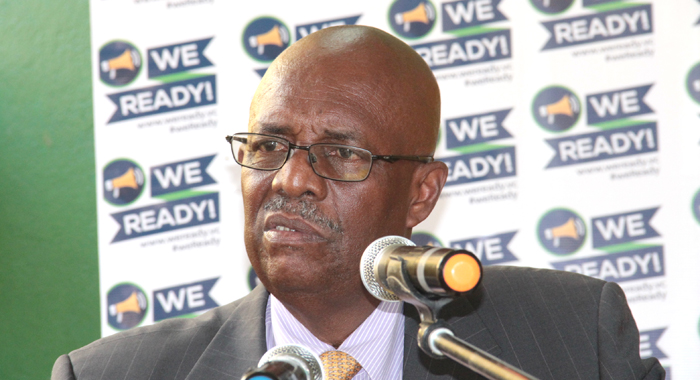 "That is supposed to be going to Parliament. I spoke to the Prime Minister about it this (Monday) morning to find out if that was coming on Thursday (today), he told me no, that is coming at the next sitting of the Parliament," Eustace said.
"But I am watching that very carefully, said Eustace, who also expressed concern about certain names on the voter's list.
"… I don't know if this is public knowledge, but I have seen over 500 names of persons … same first name and second name, which suggests that over 250 persons may have voted more than once in the last general elections," he said.
"But we are examining all these figures at the present time and in some case I am sure we are going to find those persons. But it does seem to me to be a large amount," he said.
"So, we still have to monitor that voters list and election process very carefully and we have to be careful what assumptions we make about the removal of persons from the list and whether it would take place at all, because I would have thought that would come to this Parliament that is meeting on Thursday, but, as far as I know, it is not coming to this Parliament that is meeting on Thursday, but the next session of Parliament; I'm told that it will come to the next session of Parliament," Eustace said.
"But I want to urge constituents in the various constituency to look for people who you see who have changed and moved into the area, because there seems to be a lot of that going on, and we need to keep our eyes on the ball all the time in matters of this sort, and where we find persons who are registered, who should not be in our various constituencies, we must … shine the spotlight on them and have that corrected. And when I say shine the spotlight, I mean take whatever action is necessary to make sure that these people are legally registered in your particular constituency. We have to be very vigilant in that area; very, very vigilant in that area," Eustace said.
The political parties and the Supervisor of Elections had agreed to try to make the changes to the voters list ahead of the next general elections.
Vincentians are widely expected to go to the polls this year, ahead of the March 2016 constitutional deadline.
The ULP will be seeking a fourth consecutive term in office, but Eustace was confident that the NDP will win.
"I have no doubt in my mind that the tide is swinging to the New Democratic Party. I have no doubt about that in my mind. What we have to ensure is that fraud is not in that tide; that people are being registered where they should be registered and put on the list where they should be put on the list and not have people in an area voting twice or people going to different areas.
"So we are having a concentration on these matters at the present time," he said.