The Islamic State (IS), an Islamist rebel group claiming religious, political and military authority over all Muslims worldwide, has hacked www.gov.vc, the official website of the Government of St. Vincent and the Grenadines, a message appearing on the website Sunday evening suggested.
Visitors to the website were greeted by a message saying "Hacked By  Moroccanwolf – Islamic State" and a photo of man firing a machine gun from the back of a pick-up truck.
A message appearing on the website says US and NATO Forces are involved in "Organised butchery of Human race since it's (sic) inception.
"They overthrow governments of sovereign nations and they undermine, threaten, refuse to recognise and seek to destroy democratically elected governments like they are in , Syria , Iraq , Gaza, Palestine," the message said.
"They support dictators as long as they are fulfilling US, EU & NATO interest in the region like they did in Pakistan and Saudi Arabia.
You speak of Freedom of speech and freedom of expression but you remain silent in the face of a people desire to seek freedom to exist — unless those people are Israeli Zionists!
"Hypocrisy of this magnitude will bring the chickens home to roost and not peace and security as is your mantra!" the message further stated.
Minister of Foreign Affairs and Information Technology Camillo Gonsalves did not immediate respond to a Facebook message about the development and calls to a cellphone number at which he had been reached in the past were answered immediately by an automation from the telecommunications provider.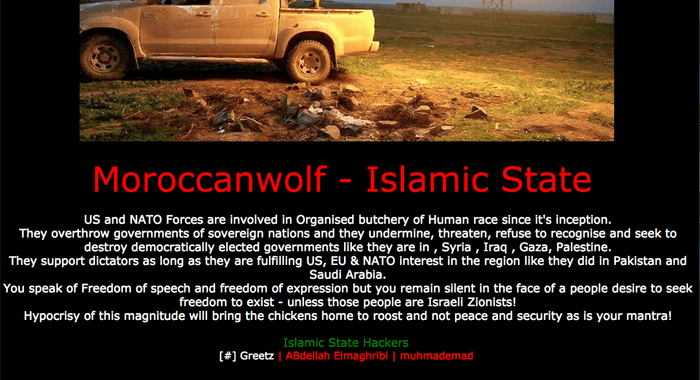 On June 29, 2014, Islamic State proclaimed itself to be a Worldwide Caliphate, the concept of a single theocratic one-world government.
The new name and the idea of a caliphate has been widely criticised and condemned, with the United Nations, various governments, and mainstream Muslim groups all refusing to acknowledge it.
As caliphate, Islamic State claims religious, political and military authority over all Muslims worldwide and that "the legality of all emirates, groups, states, and organisations, becomes null by the expansion of the [caliphate's] authority and arrival of its troops to their areas".
Many Islamic and non-Islamic communities have, however, judged the group as unrepresentative of Islam.