As the war of words between MP for North Leeward, Roland "Patel" Matthews and his challenger, Carlos James, continues, James on Sunday challenged Matthews to gear up and join him at the starting line.
The verbal exchanges across political platforms came to a fore two weeks ago when James, the ruling Unity Labour Party's (ULP) candidate for North Leeward, called Matthews "lazy" as he addressed a party rally in Chateaubelair on Aug. 30.
Matthews responded one week later at a rally of his New Democratic Party (NDP) in Redemption Sharpes, calling James a criminal, a reference to a 2013 conviction he has had for an indecent language charge.
Speaking at a ULP rally in Redemption Sharpes Sunday night, James, a UK-trained lawyer, said:
"Now, I have spent over half a decade of my life equipping myself, … lifting up myself from my bootstraps to come back here to make a contribution to nation building in my country.
He said Matthews, whom he described as "the man from the shop steps" is quoted by a newspaper as questioning how James came to be accepted to Gray's Inn, an Inn of Court in the UK in light of the conviction.
"Why yo' want to knock progress and knock the qualifications of a young man who has uplifted himself and is now giving back of himself to the people of North Leeward," James said in reference to Matthews, a former teacher.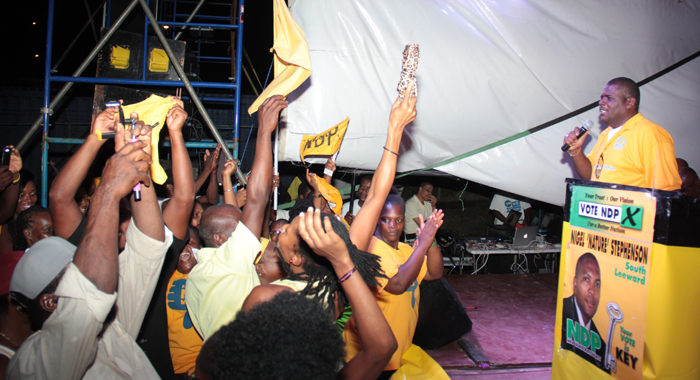 James said Matthews is also knocking young people who have achieved successes under the ULP's "education revolution".
He said he has a clipping from a newspaper in 2010, when Matthews was first elected, in which he promised to bring better representation to constituency.
But James said that the people of North Leeward are still waiting for better representation.
"Because I want him to answer some questions: what have you accomplished since becoming the Member of Parliament for North Leeward. I know the answer and you know the answer and is nothing! What have you accomplished and what have you done since you left teaching in North Leeward? And you know the answer is nothing!" James said.
He said Matthews is going around North Leeward and begging for support.
"But the writing is clear on the wall for all of us to see. So he thinks he can malign me, go on a platform and say all kinds of ill things about a man who he said, 'Well if he is the candidate, I don't have to campaign.'  But all in the night, he moving from top to bottom, running round like a mad man," James said.
He said enlightened voters who are now under the education revolution, cannot and will not accept the type of politics that the NDP brings.
"They want to understand the issues. They want to hear the policies and if yo' have any plan, tell the people what you have to offer. And if you have nothing, you could beat up on Carlos James, but the people of North Leeward knows that Carlos James has their interest at heart and he is going out and they are also rallying behind him."
James said Matthew behaved "bad" in Sharpes but seemed to have gotten the letter from the lawyer demanding an apology and payment of money to a charity over the "criminal" statement.
He said Matthews was "quiet as a lamb" at the NDP rally in Campden Park Saturday night.
But on the contrary, a defiant Matthew, in an energetic speech, told NDP supporters that he is not afraid of James or his letter and repeated his accusation that James – who transferred his voter registration to North Leeward last year — is not living in the constituency. (See video below)
"And I want to make this clear: no technicality, no default; put on your running shoes, line up next to me and let the voters decide who they want to represent them in North Leeward," James said .
"I have news for him: Carlos James is here to run and I am here reporting for duty. North Leeward, I am coming to be your next representative in the next general election."
James asked party supporters to imagine a future with the Argyle International Airport operating at full capacity, hundreds of jobs in North and Central Leeward on the completion of the Mt Wynne-Peter's Hope tourism project, and thousands of jobs and thousands of people being qualified at the university level.
He spoke of every child having universal access to primary and secondary education, a new city at Arnos Vale, a tunnel into Kingstown, brand new cruise terminal with thousands of persons coming to SVG, significant investment in agriculture and agro-processing, with increased exports to foreign markets through Argyle International Airport.
"I want you to think. I want you to listen and imagine: thousands more of houses that Gomery (Minister of Housing Montgomery Daniel) has to build as Minister of Housing under the low-income home. More jobs for school-leavers, enhanced vocational training for youth, continuation of the 'Lives to Live' programme, home care of the elderly and increased Public Assistance (social welfare payments).
"But imagine that future, comrades. That future is now. It is happening before our very eyes. It is the Unity Labour Party at work, a revolutionary government in its full bloom, with an astute political leader with the vision to take us forward and to continue the good work started in 2001…"
James said voters can never relinquish the country into the hands of the NDP "with a leader who has no compelling narrative for our country's development…"
General elections are expected this year, ahead of the March 2016 constitutional deadline.