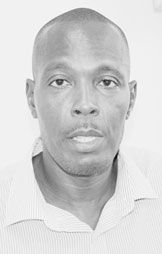 Dismissed public servant Otto Sam says he is giving God thanks for the decision of the Court of Appeal to dismiss the government's appeal of a 2014 high court ruling that his transfer out of the education system in 2010 was irrational and illegal.
"I give God thanks. What continues to come through is that the true God is greater than the gods we worship here," Sam told I-Witness News Tuesday night.
"And I also appreciate the fact that the law chamber did good work on it and the trade union has been supportive — and the Vincentian public on a whole," said Sam, who is represented by Jomo Thomas and Shirlan Barnwell.
Thomas told I-Witness News in a separate interview on Tuesday that the Court of Appeal handed down the decision in Grenada.
"I have not yet read the judgement. What I do know, the court dismissed the appeal of the respondent and ordered EC$2500 in cost," Thomas said.
In 2010, Sam was transferred from his post as headmaster of the South Rivers Methodist School to NEMO after he complained that Prime Minister Ralph Gonsalves broke Ministry of Education protocol during a visit to the school, by not first reporting to the head teacher.
Sam has since been dismissed from the public service and is seeking judicial review of that decision.
"Many are our afflicts. You know it's not just the transfer, we had dismissal, but God delivers us out of them and I give thanks for that," Sam told I-Witness News.
Asked how he has been keeping since his dismissal, he said:
"God keeps me you know. I am alive. I am still here."
Regarding employment, Sam said he does "nothing per se," adding, "But I am still here."
Asked about any further legal action he might take against the government in light of the Court of Appeal's decision, Sam told I-Witness News:
"Those things will — naturally, justice will prevail. Justice will continue to be sought. The lower court had already ruled that there should be compensation and so on. The matter, I will continue to pursue them. It's just another landmark victory."