The 32-year-old woman whose right leg was amputated just above the knee after she was injured in a vehicular accident on the way to an election rally on Saturday says she has accepted her new, unexpected reality.
The woman, Shirley Baptiste of Sandy Bay, was injured when a truck, TQ406, carrying New Democratic Party (NDP) supporters from North Windward to Chateaubelair overturned in Gordon Yard.
The mother of three children — ages 14, 11, and 3 — told I-Witness News on Monday that she was sitting in the back of the truck and was injured as she tried to avoid being crushed by the vehicle.
Reports are that the truck's brake failed, causing it to speed downhill.
The driver, realising what was happening, crashed the truck — in which several persons were travelling — into a bank on the left side of the road as he tried to avoid going over an embankment, I-Witness News was told.
Reports are that the truck overturned and fell on Baptiste's leg and injured several other persons, including the older two of Baptiste's children.
The injured were treated initially at the health centre in Spring Village and later at Milton Cato Memorial Hospital, where Baptiste is warded.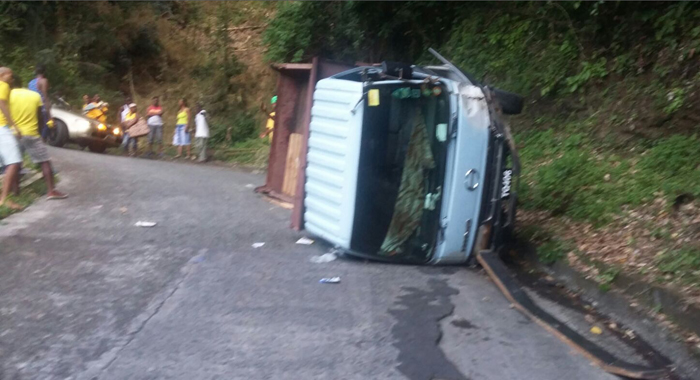 Baptiste told I-Witness News that she does not remember much of what happened after the truck fell on her leg.
She said she remembers being told by doctors that she is being taken to surgery, at which point she inquired about her whereabouts and was told that she was MCMH.
Speaking on his weekly radio programme on Monday, NDP President and Leader of the Opposition, Arnhim Eustace, said he visited Baptiste at MCMH on Sunday.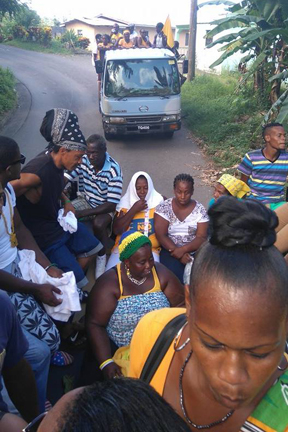 He said the spent about an hour with her "discussing issues about how she will be able to function in the future and expressing our sympathy and concern about her own situation."
Eustace noted that the woman has three children, the youngest of which is only 3.
"She herself is only 32 years old and, therefore, has her whole life ahead of her. And now she has lost one of her legs," he told listeners.
"It was very distressing to really sit down and recognise the extent of the difficulty she will face in the future being such a young woman. And we looked at ways we could work together to make life as good as possible for her and her children.
"The fact remains that the psychological effect of suddenly losing a leg is something that is not easy to deal with, but that is the reality that she faces this morning as she lies in her bed at the hospital.
"And all our sympathies, the sympathies of our party, go out to her and her family at this time."
Eustace said that as he spoke to Baptiste he could see her thinking "and the enormity of what she now faces in her life is just getting home to her and, of course, to her family.
"We are going to be monitoring and assist in whatever way we can in her situation in the future. It is really a terrible accident and she will face such a permanent loss.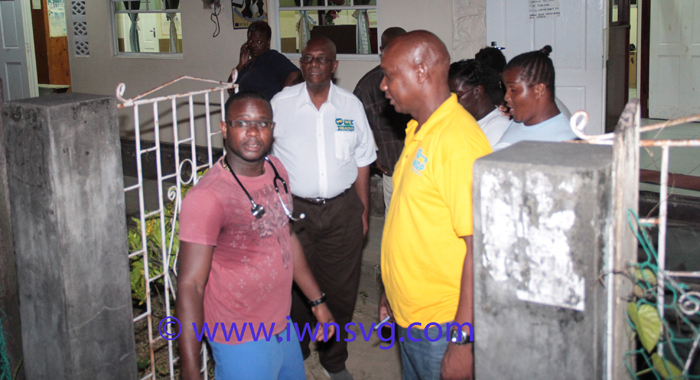 "Miss Baptiste, we are really sorry about what happened. But, on the other hand, a number of persons are treating the driver as somewhat of a hero because he was able to prevent the vehicle from going over an area that was steeper, which mostly would have involved the death of some of the passengers on that truck," he said.
"I want to say to Shirley that we understand the station and the New Democratic Party will play its role in this regard and to give her the assurance that things will improve. "We can't get to the point where we will remove everything, every hurt, every pain, but at least we make life more bearable and bearing in mind the young children and the fact that she will be alone in the hospital for some time."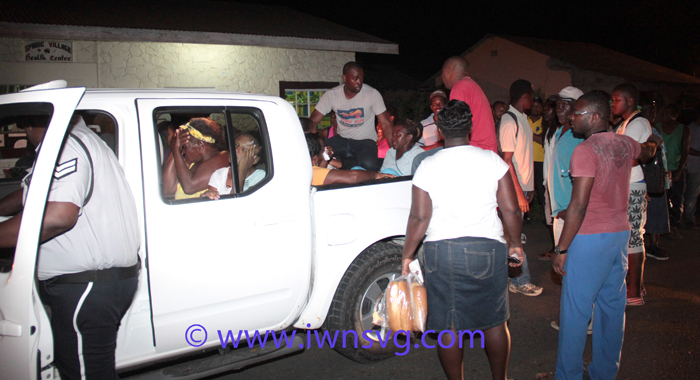 Eustace said the NDP was putting logistical arrangements in place to help Baptiste during her hospitalisation.
"It really is a tragedy that a woman so young finds herself in that condition or in that position and or sympathies really go out to her and her family," Eustace said.
Meanwhile, NDP candidate for North Windward, Lauron "Sharer" Baptiste, told I-Witness News on Monday that arrangements were being made to provide counselling for the injured woman.