Spokesperson for the main opposition New Democratic Party (NDP), Vynnette Frederick, has described Supervisor of Elections, Sylvia Findlay, as an "idiotic woman".
Frederick's comments, in a post on Facebook on Tuesday, was in response to a statement that day in which Findlay accused her of taking a photograph of a ballot box in Central Leeward and posting it on social media and captioning it as the alleged missing ballot box for Central Leeward that had been found.
"When it was brought to my attention and I examined the photograph posted, in the presence of the representatives from both the NDP and ULP, I publicly expressed dissatisfaction with Ms. Frederick for misleading the general public and creating chaos in the country," Findlay said.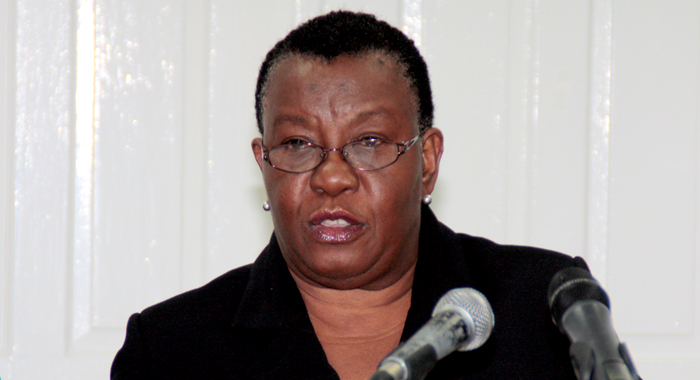 But Frederick denied sharing the photo on social media, saying:
"I told the idiotic woman and Rene Baptiste who was her echo at the recount that I made no such posting when they said this to me as I sat in the recount for North Leeward.
These two idiots who are clearly computer illiterate and technostupid persisted with this totally nonsensical allegation," Frederick said.
Rene Baptiste is a lawyer and former MP for West Kingstown under the ruling Unity Labour Party (ULP).
"I made no such posting anywhere!!!!" Frederick, a lawyer, said in the Facebook post.
She said she took the photograph and video "which they wanted me to delete yes but I never shared it with such a caption to anyone.
"Their behaviour was reprehensible during this recount by the way. I have never shared the video I shot either," the NDP spokesperson said, but did not comment on who shared the photo on social media.
"A third idiot the police officer who arrested me the second time for the Gov't was the person who initially raised the issue when he saw a posting on his own cellphone.
"Where that came from I do not know.
"If these dimwits had any sense they would go on my FB page at the time they are alleging that I made the post and see what my activity was at that time.
"Forgive me for not being gracious with these individuals. I will not stand for their BS accusations anymore," Frederick said.
The ULP has been declared winners of the Dec. 9 general elections by a margin of 8 seats to the NDP's seven.
But the NDP is claiming victory. The party, citing irregularities in Central Leeward, is claiming that it won that seat and says it will go to court to prove its case.